Google gets jealous of Deepracer, and releases Google Cloud Fly Cup. Drones!! Plus Oracle goes to Madrid and AWS Enterprise Support will handle your incidents for you!
Read More
Blog
The Cloud Pod is 100 episodes strong. Here's what we've learned so far (plus we'll give you some clues as to what to look for in the next 100 episodes).
Read More u00bb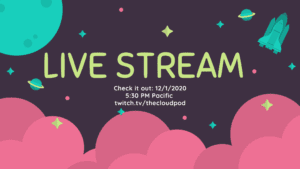 Blog
Check out our Live Stream on 12/1/2020 at 5:30 PM Pacific time. https://www.twitch.tv/thecloudpod
Read More u00bb
Blog
Jonathan, Peter and I will all be attending Re:Invent 2019! We are looking forward to meeting all of you who have listened over the last
Read More u00bb
Blog
My Co-Hosts and I have hit the 25 episode mark! We have been thrilled with the response to our show and I wanted to document this early period in the show's history!
Read More u00bb
We are three friends who are interested in all things Cloud computing. Join us weekly where we break down the latest in cloud computing. 
Read More u00bb