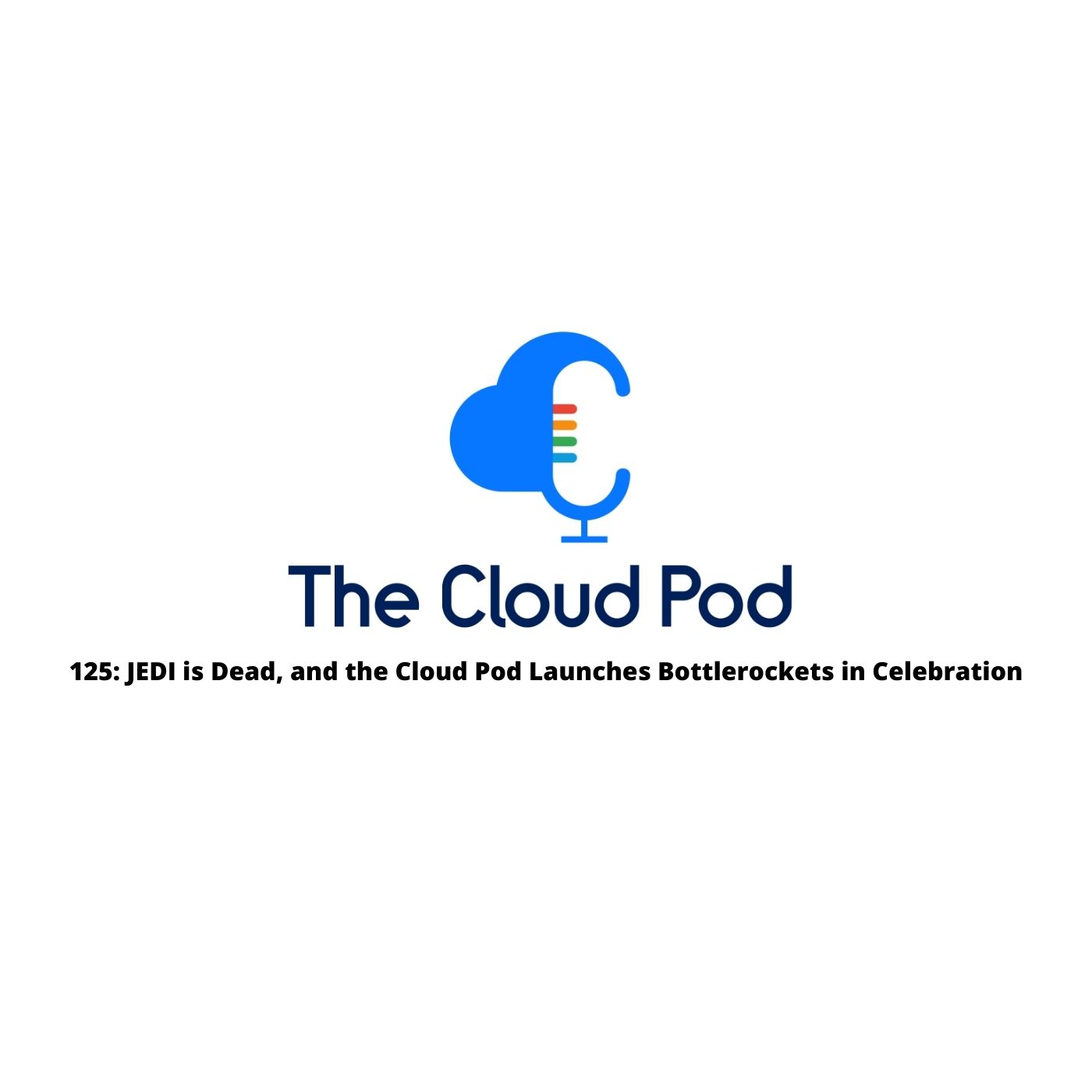 On The Cloud Pod this week, Ryan was busy buying stuff on Amazon Prime Day and didn't want to talk about JEDI, so he arrived late to the recording. Also, long-time sponsor of The Cloud Pod, Foghorn Consulting, has been acquired by Evoque, so the team grilled Peter for the juicy details.            
A big thanks to this week's sponsors:
Foghorn Consulting

, which provides full-stack cloud solutions with a focus on strategy, planning and execution for enterprises seeking to take advantage of the transformative capabilities of AWS, Google Cloud and Azure.
JumpCloud

, which offers a complete platform for identity, access, and device management — no matter where your users and devices are located.

 
This week's highlights
🚨 The $10 billion JEDI cloud

contract has been canceled

by the Pentagon

. In its place, the DOD announced a new multi-vendor contract known as the "Joint Warfighter Cloud Capability."  

🚨 Evoque Data Center Solutions has

acquired cloud engineering experts

Foghorn Consulting

. This is a key part of the company's Multi-Generational Infrastructure (MGI) strategy, which it announced the same day as the acquisition.  

🚨 AWS released

some incredible numbers

from

Amazon Prime Day

. Jeff Barr gives his annual take on how AWS performed and the record-setting event.    
Top Quotes  
💡 "The Pentagon has called off the $10 billion cloud contract [JEDI]. It was being dragged through the courts by Amazon and Microsoft, and this is sort of an admission that the Pentagon didn't want Donald Trump to get subpoenaed and testify on what his involvement was in the whole contract."

💡 "This is a big problem that almost every business has: how do you stop a deployment, especially a large deployment? Typically, we throw people at it, and we have them watch millions of dashboards, and hopefully, they catch it. But usually, it's a problem somewhere that's exposed to the customer that triggers that. So if we can have more tools like Gandalf that detect problems earlier, it's great."
General News: Some People Can't Take a Joke
🥳 Evoque Data Center Solutions

acquires Foghorn Consulting

. Congratulations to Peter on this exciting news! 

😠 The AWS Infinidash story has taken on

a life of its own

. What started as a joke has led to backlash from the community complaining about it being a form of technology gatekeeping. 
JEDI: We're Not Talking About This Anymore
💀 The Pentagon has canceled the

$10 billion JEDI cloud contract

. It's not really dead, they've just turned it into a joint multi-cloud offering, which is what we said they should do six months ago.  
Amazon Web Services: A Little Gooey  
Google Cloud Platform: Looking To The Stars 
🔭 Rubin Observatory offers the first

astronomy research platform in the cloud

. It's great to see a partnership in the science field, rather than with another big corporation. 

🎉 Google introduces predictive autoscaling for

managed instance groups

(MIGs). Autoscaling can be difficult to manage, so anything that helps automate it is great. 

🤗 Google has made several updates to

Google Cloud VMWare Engine

. Allowing users to leverage policy-driven automation to scale nodes needed to meet compute demands of the VMWare infrastructure is fantastic.      
Azure: Big Fans of Lord of the Rings    
👏 Azure VPN NAT is now

in public preview

. One of the most impressive features will help avoid IP conflict, especially with the transit gateway, which is awesome. 

🌼 Azure announces the integration of New Relic One performance monitoring

into Azure Spring Cloud

. This is supported by VMware and Azure at the same time, which is not bad if you have a Spring Boot app: Getting access to VMware engineers to troubleshoot your Java code is always a plus. 

🧙‍♂️ Azure builds a safe deployment

service called 'Gandalf'

. When the data center is on fire because of new code, it stops the problem from spreading.
TCP Lightning Round
⚡ In a controversial move, Peter claims that jokes that write themselves should be a point for him so awards himself this week's point, leaving scores at Justin (11), Ryan (5), Jonathan (8), Peter (2). 
Other Headlines Mentioned:
 Things Coming Up