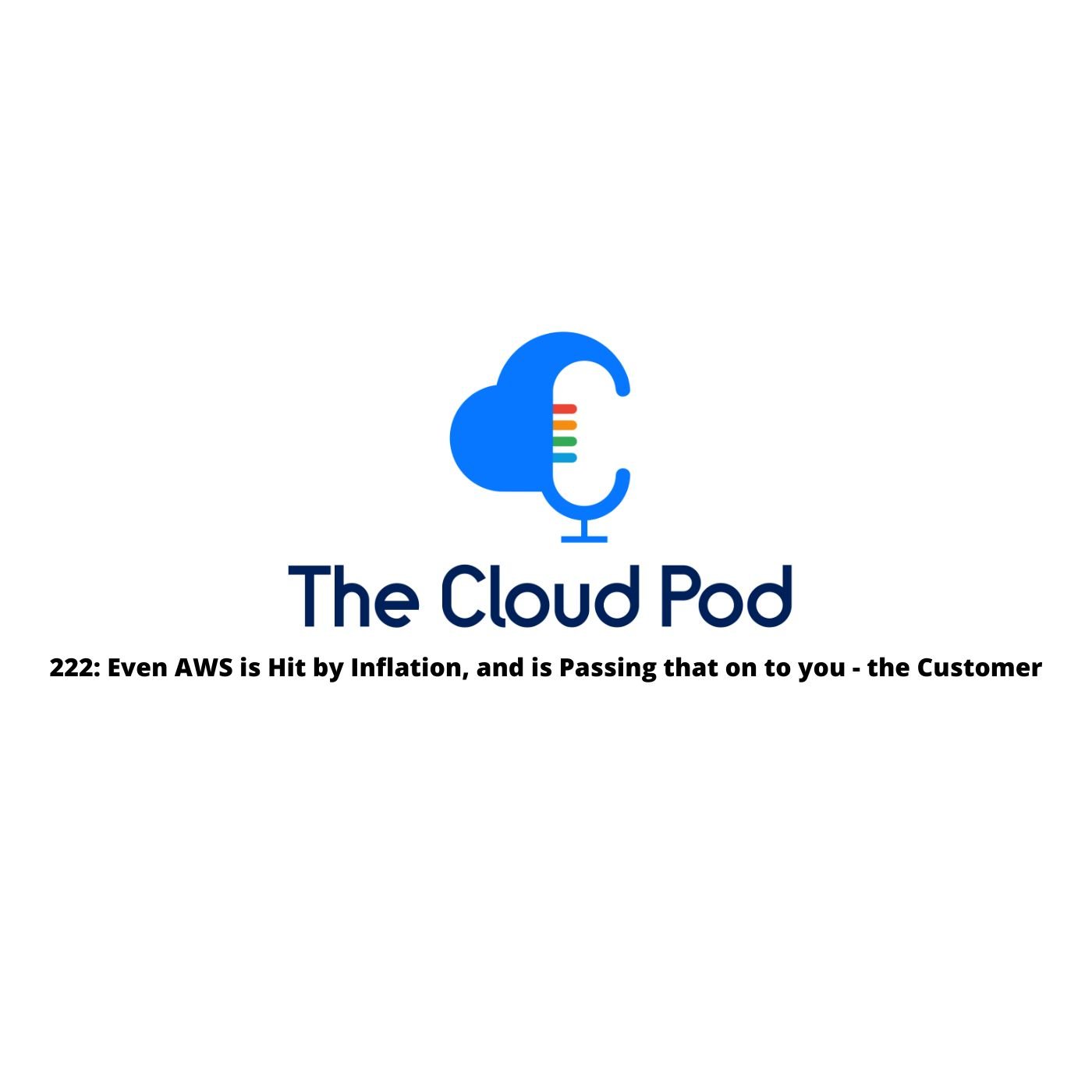 Welcome episode 222 of The Cloud Pod Podcast – where the forecast is always cloudy! This week we take an in depth look at the latest earnings reports from all the major players, changes to IPv4 costs (inflation), Healthscribe, and all the news (in cybersecurity) that's fit to print. 
Titles we almost went with this week:
💊The CloudPod can finally read the doctors notes with HealthScribe

🩺Amazon Healthscribe it's like transcription, but for doctors who use big words

📋You get an LLM, you get an LLM; apparently EVERYTHING at Amazon gets an LLM

☁️Should The Cloud Pod rename itself C? 

🐦Musk Flips Twitter the Bird (just for Jonathan)
A big thanks to this week's sponsor:
Foghorn Consulting
provides top-notch cloud and DevOps engineers to the world's most innovative companies. Initiatives stalled because you have trouble hiring?  Foghorn can be burning down your DevOps and Cloud backlogs as soon as next week.
📰Pre-Show📰
00:49 Follow up: Public Preview: Customer Managed Failover for ADLS Gen2 
The guys didn't talk about this when it came up, as it didn't get a full blog post and we killed lightning round – but Matt has **thoughts!** 

Azure storage strives to give you an effective disaster recovery offering and are now supporting customer-managed failover for ADLS Gen 2 accounts. 

Whether you are performing testing or facing a true disaster your primary endpoint can now initiate a failover from our primary endpoint to your secondary endpoint. 
01:40📢 Matt – "It's just one of those features that I'm just dumbfounded that didn't exist day one. You know, encryption, DR – these things should just be there. And the fact that it's ADLS has been around for a decent amount of time."
📰General News this Week:📰
03:06 The big news this week is EARNINGS:
Microsoft beat expectations, both for the last quarter and for when they were going to announce. It was early! 

Net income of 20.1 billion for Fiscal 4th quarter 2023; which is up 20% from a year earlier. 

Revenue rose to 56.19 Billion, ahead of Wall Street's expectation of 55.47 billion

Stock still dropped 3% in after hours trading and is basically down 5% since the announcement on July 25th.

Despite all of this, the future doesn't look super great per MS COF Amy Hood, who said that first quarter revenue is only going to be between 53.8 and 54.8 billion, implying growth of only about 8%.

This is tied to revenue growth of less than 10% by three consecutive quarters.

Microsoft Intelligent cloud was up 15% (Azure, Windows Server, SQL Server, Github, Nuance, Visual Studio and Enterprise services) overall was up 15%.

Microsoft said Azure specific  growth was 26%, and it generated more than $110b in annual revenue, making its growth is good, but still slower than what it was during the pandemic when it regularly saw 50% growth. 
"The key milestone is that services revenue is, for the first time, more than double that of product revenue, demonstrating how Microsoft is leaving its product legacy behind," he said. "While product revenue was $8 billion less over the full year, services revenue more than compensated, growing by $22 billion in the same period. Overall, it is clear Microsoft wants to become a services company. It needs to produce a constant stream of services innovations to continue this transformation, and it's well-placed to do that." — Holger Mueller from Constellation Research.
The real question  – IS Microsoft *REALLY* well placed to do that?
Revenue grew by 7% to 74.6 Billion, ahead of the 72.8 consensus estimate. Net Income was up to 18.37 Billion from 16 billion a year earlier (which is what you'd expect would happen when you let go of a LOT of employees.)

Sundar Pichai said that there is exciting momentum building across the company and its portfolio of products around AI.

Google Cloud delivered a healthy revenue jump at 28%, but most importantly its turning into a profitable business at last. Operating income was 395 million vs a 590 million dollar loss a year ago. The second quarter that Google Cloud has made a profit. 

"

Google's decision to stretch the lifetime of its servers and networking hardware to six years is a key factor in Google Cloud's profitability

," Mueller (Constellation Research) said. "

It helps the balance sheet and though it does also raise concerns over the reliability of its platform in terms of uptime and performance, Google does know what it's doing

."
06:42📢 Jonathan – "I'm okay with servers sticking around until they die. I mean, I architect things for failure anyway, so as long as Google also architecting their services to deal with those failures when they happen, it shouldn't be an issue."
07:44📢 Justin – "I'm sure the other cloud providers are, you know, assessing this and making a determination of how long they're going to keep hardware and running and, you know, extending from five years to six years, I think is a pretty low risk. you know, it gets more expensive for them from a green computing initiative, right? Like, you know, older hardware is not as efficient, it's more power hungry. So some of those are a challenge for them over time as well. Keep those things running for six years. So I don't think you'll see companies really stretch it out beyond six."

Amazon recovered nicely in the 2nd quarter.  

They also have a strong forecast for accelerating growth in the 3rd quarter. And as expected, the stock market loved it. 

Revenue rose 11% to 134.4 billion exceeding consensus estimates of 131.5 billion. 

Net income was 6.7B in the quarter, reversing the 2 billion loss from Q1 (which was really driven by its mark down on Rivian)

This earnings beat was the biggest for Amazon since the fourth quarter of Fiscal 2020, and the strongest indication that cost cutting measures introduced over the last year are paying off. (More of that whole "laying people off".) 

AWS Revenue rose 12% to 22.1 billion, ahead of the consensus at 21.8 billion, but still the slowest growth rate.  The unit generated 70% of the 7.7 billion operating profit.  
13:35 'Every single' Amazon team is working on generative AI, says CEO 
During earnings, Andy Jassy said "

Every Single one of Amazon's businesses have multiple generative AI initiatives going on right now

." 

He added

"They range from things that help us be more cost-effective and streamlined in how we run operations and various businesses, to the absolute heart of every customer experience in which we offer. It's true in our Stores business, it's true in our AWS business, it's true in our advertising business, it's true in all our devices — and you can just imagine what we're working on with respect to Alexa there — it's true in our entertainment businesses… every single one. It is going to be at the heart of what we do. It's a significant investment and focus for us.
14:23📢 Justin – "It sort of hearkens back to Gates writing a telling memo about how we 'need to become an internet company'… Is this that moment for AWS? They're an AI company now? 
14:36📢 Jonathan – "I think they've been an AI company for a long time, there's just not a lot of it has been customer facing."
15:05 What leaked court docs tell us about AWS, Azure and Google cloud market shares
Sometimes we get interesting data from weird sources; this time it's a Silicon Angle article that reports from leaked court documents of the ongoing Activision Blizzard/Microsoft Acquisition hearings.  

The data shows that Azure Revenue maybe 25% lower than previous estimates (note they aren't broken out by the cloud provider)

This means that AWS is probably maintaining a 50% share of Cloud revenue through 2023.  It also helps Google Cloud, as its market share isn't affected much. 

The court documents show that Azure revenue for Fiscal 2022 is at 34B, which is 10 billion lower than analysts estimated. 

While technically, Microsoft can put the money where it wants, and this may be a play to make it look like they have less of a monopoly than the FTC argues.  But they are under oath to tell the truth… so it's unlikely. Maybe. Probably? 

Just a reminder: only AWS reports in a clean manner.  
AWS
17:31 ALL NEW! New Regions and Availability Zones
18:19 📢 Matt – "I'm still trying to figure out where in Israel you have three zones that are more than 200 miles apart from each other."
18:40📢 Justin – "We need someone to accidentally leak all that data again, so we get an updated Amazon map, because they don't like to tell you exactly where these things are, but there's that leak that came out a couple years ago, and they had the actual addresses of all of the data center regions and availability zones. We just need one of those to happen so we can tell."
19:15 New – AWS Public IPv4 Address Charge + Public IP Insights
You know you're in inflationary times or desperate for revenue when even AWS is raising prices on their customers. 

Effective Feb 1 2024, AWS will be charging $0.005 (half a penny) per IP hour for all public IPV4 addresses, whether attached to a service or not.

If they're NOT attached to a service, there will actually be an additional charge, so beware of that.  

Managed services or not

AWS explains that IPv4 addresses are a scarce resource, and the cost to acquire them has risen over 300% in the last 5 years. This new cost increase reflects that price increase. 

This includes services AWS Manages for you that leverage IPv4 addresses like lnat gateways and load balancers. 

AWS will give you 750 hours of one IPv4 address usage per month for the first 12 months. (Just a reminder, a single load balancer uses 3, so…)

You will not be charged for BYOIP. 

To help you know how many of these are in use, Amazon VPC IP address Manager is offering a Public IP Insights dashboard, which is free to use. 
21:08📢 Matt – "I get why they're doing it. You know, with all the cloud providers, all buying up them, there is a scarcity of resources but the same point it adds up quickly. You have what? Three NAT gateways, so that's three, you have a couple load balancers running your application or NLBs, there's another couple, three, you know, $4 round up here per month, it starts to – you know, per IP address – it starts to add up real quickly. Especially if you're running a small business."
22:48📢 Jonathan – "I'm disappointed that they're passing that cost on to customers. They're already in possession of 100 million IPv4 addresses. I think they can probably afford to not have done this."
29:44 New Amazon EC2 Instances (C7gd, M7gd, and R7gd) Powered by AWS Graviton3 Processor with Local NVMe-based SSD Storage
30:07 New – Amazon EC2 P5 Instances Powered by NVIDIA H100 Tensor Core GPUs for Accelerating Generative AI and HPC Applications 
New Instances for the Graviton 3 with local VNME with the c7gd, m7gd, and r7gd instance families. ½ to 64/512 configurations

For your AI and HPC needs, the new P6 instance is the next generation GPU instances leveraging the latest NVIDIA H100 Tensor Core GPUs 

These new GPUs provide a reduction of up to 6 times in training timing. 

Options include 192 VCPU, 8 H100 GPUs, and 2tb of RAM

This is a significant bump over the P4d.24xlarge servers these replace
30:48📢 Jonathan – "Just the cost of the hardware is phenomenal. I mean, I jokingly priced out a server from Supermicro that had a bunch of these GPUs in, you know, for when I win the lottery. And just one of those GPUs is $40,000."
Now… amortize that over six years instead of 4…
31:32 Introducing AWS HealthScribe – automatically generate clinical notes from patient-clinician conversations using AWS HealthScribe 
AWS

HealthScribe

, is a new HIPAA-eligible service empowering healthcare software vendors to build clinical applications that automatically generate preliminary clinical notes by analyzing patient-clinician conversations is now available in preview. 

AWS Healthscribe analyzes the patient-clinician conversation audio to provide:

Rich Consultation Transcripts

Speaker Role Identification

Transcript Segmentation 

Summarized Clinical Notes

Evidence Mapping

Structural Medical Terms
32:58📢 Jonathan – "I fear that things like this will be used by insurance companies. They want to see the transcripts of conversations that you had over the years to evidence things for coverage. So I'd be concerned that this wouldn't actually work out in the consumer's favor at all…I can't help but think that the transcriptions will be anonymized and used to train machine learning models and all of a sudden we'll have a virtual Amazon doctor that we can call upon Chime and get a consultation for how many dollars."
35:08 Preview – Enable Foundation Models to Complete Tasks With Agents for Amazon Bedrock 
Bedrock gives you a preview of agents for

Amazon Bedrock

, a new capability for developers to create fully managed agents in a few clicks.

Agents for Bedrock

accelerate the delivery of generative AI applications that can manage and perform tasks by making API calls to your company's systems. Agents extend FMs to understand user requests, break down complex tasks into multiple steps, carry on a conversation to collect additional information and take actions to fulfill the request. 

We're on to you AWS – this is 100% the beginnings of Skynet. You heard it here first, folks 
GCP
38:00  A new partnership to promote responsible AI 
Anthropic, Google, Microsoft and Open AI are announcing the formation of the Frontier Model Forum, a new industry body focused on ensuring safe and responsible development of Frontier AI models. 

The Frontier model forum will draw on the technical and operational expertise of its member companies to benefit the entire AI ecosystem, such as through advancing technical evaluations and benchmarks, and developing a public library of solutions to support industry best practices and standards.Those things include:

Advancing AI Safety Research

Identify best practices

Collaborating with Policymakers, academics, civil society and companies 

Supporting efforts to develop applications that can help meet society's greatest challenges

Are you in AI? Do you develop and deploy Frontier models? You too can join and participate! 
39:29 📢 Jonathan – "Yeah, it makes sense. I mean, Antropic has already been working on AI safety for years. So instead of reinventing things from scratch, Google and Microsoft and OpenAI probably do well to partner with somebody who's already been working on this."
👂Listener Survey: What do you all think of the reports that ChatGPT has gotten dumber? Let us know your thoughts! 
42:15 Attack Path Simulation is now Generally Available
Now available in Security Command Center Premium

This is a new threat prevention capability that automatically analyzes your Google Cloud Environment to discover attack pathways, and generates attack exposure scores so you can prioritize security findings. 
42:28 📢 Justin – "What I think is a really nice feature and really good to have, I just don't know why they're insisting that I pay the premium price for Security Command Center. Premium to get it. I think every customer who's trying to secure their Google Cloud environment should have this for free. as just part of the value add of having Google, especially since it's simulations that tell you, hey, you have a potential attack vector."
Azure
47:58 Always learning, always adapting: Unpacking Azure's continuous cybersecurity evolution
Azure's cybersecurity strategy is based on three pillars: prevention, detection, and response.

Prevention (don't actually do anything proactive)

Detection (Your customers detect it)

Response (Deny, and then be publicly embarrassed)

Azure uses a variety of tools and techniques to prevent attacks, including artificial intelligence, machine learning, and behavioral analytics.

Azure also has a team of security experts who monitor for attacks and respond to incidents.

Azure is constantly evolving its cybersecurity measures to stay ahead of the latest threats.

Too bad it doesn't seem to be working. Sad. 
49:16 📢 Matt – "That was a Tenable literally saying, hey, we found a bug. And they said, cool, we fixed it. And normally when they fix it, they tell them how, so the pen tester can go back in and confirm that it was fixed. And they just said, hey, we fixed it. No one knows how they fixed it. If they just blocked Tenable IPs or what they did. Like who knows?
Continuing our Cloud Journey Series Talks
After Show
The bird is dead, long live X

Twitter rebranded to X corp officially, and we still can't get used to it. 

Musk has a much larger vision than 120 character tweets, with the idea that Twitter will evolve into something new, the "everything app" or the public town square. 

This was further enforced by hiring Linda Yaccarino as CEO.  

Ironically, Linda twitter that it's rare in life or business that you get a second chance to make another big impression… And they sure did with their X HQ neighbors in San Francisco, as the new sign on the building kept many of them awake before being taken down by the city. 

Can you say 'public nuisance' kids? 

Permits? We don't need no stinkin' permits. 
Closing
And that is the week in the cloud! We would like to thank our sponsors Foghorn Consulting. Check out our website, the home of the cloud pod where you can join our newsletter, slack team, send feedback or ask questions at thecloudpod.net or tweet at us with hashtag #thecloudpod