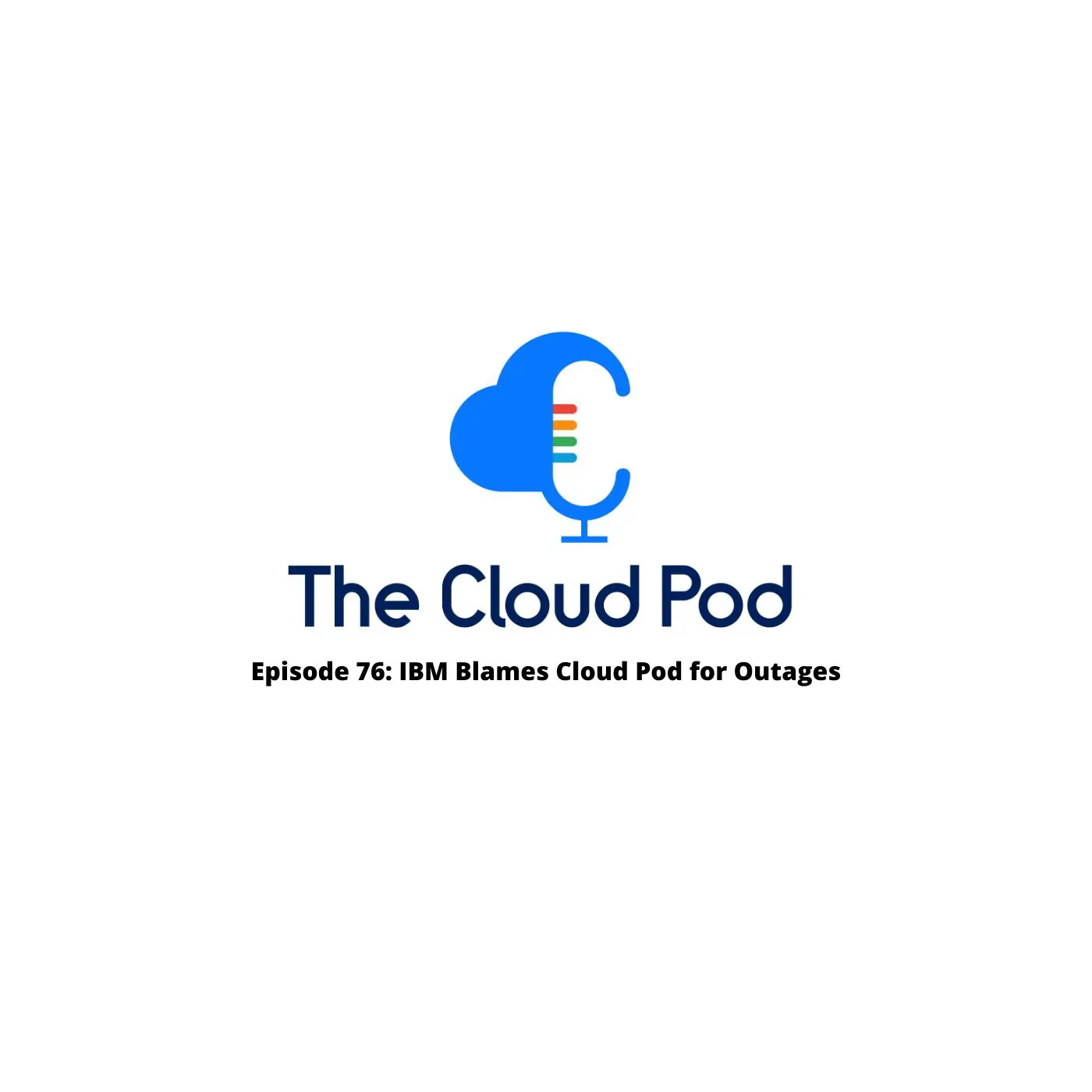 Your hosts (minus Jonathan) talk outages and instances on this week's episode of The Cloud Pod.
A big thanks to this week's sponsor:
Foghorn Consulting

, which provides full-stack cloud solutions with a focus on strategy, planning and execution for enterprises seeking to take advantage of the transformative capabilities of AWS, Google Cloud and Azure.
This week's highlights
🚨

Mark Russinovich

(twitter: @markrussinovich) published a guide on scaling-up during the pandemic.

🚨

Sagemaker Ground Truth

lets robots see in 3D.

🚨 Check out our

interview

with Spot CEO

Amiram Schachar

.
General News: Not Our Fault
🤐 IBM assigned the cause of a several-hour global outage on June 10 to an

unnamed third party

. We can expect a full formal report from IBM soon.

💰 Data warehouse specialist company Snowflake is rumored to be filing for initial public offering at

$20 billion

, 1,333% of its valuation just two and a half years ago. It's just a matter of time until Amazon Redshift makes a move to break into Snowflake's space.
COVID-19
📓 Chief Technical Officer at Azure Mark Russinovich detailed

how Azure scales Microsoft Teams during the pandemic

in what appears to be a face-saving measure after Azure's recent capacity issues. It's a weighty article — we recommend checking this one out for yourself if you're encountering any scaling issues of your own.
AWS: The Third Dimension is Data
Azure: An Instance of Poor Optics
📹 The live video analytics platform

Azure Media Services

is now in preview. Enjoy your automated live video feed analytical capabilities, Department of Defense! Pinky swear you'll be responsible with it?

💾 Azure released

several new instances

this week based on Cascade Lake: Ddv4, Ddsv4, Edv4, Edsv4, Dv4, Dsv4, Ev4 and Esv4. You know Azure, if you make your naming and pricing conventions this obtuse, we'll start to think you just like watching your marketing department squirm.
Google: Just Another Fire in the Wall
🖥️ Google

released

a Github repo to help customers use the cloud monitoring dashboard API they released earlier this year. We love to see this trend back to basics.

🔥 Google has introduced

two new beta features

to Google Cloud firewalls: hierarchical firewall policies and firewall insights. You can expect a lot of exception requests forwarded to your security team.

👏 Derek Phanekham and Rick Jones published a

blog post

this week explaining why they prefer using Netperf to measure round-trip network latency in the cloud. In this masterclass in writing a smear article, they have marketed against Amazon without ever mentioning AWS. Bravissimo!
Lightning Round
⚡ Justin takes this week's point, leaving the score at Jonathan (five points), Justin (seven points), and Ryan (two points). And the lead grows!
Other headlines mentioned: