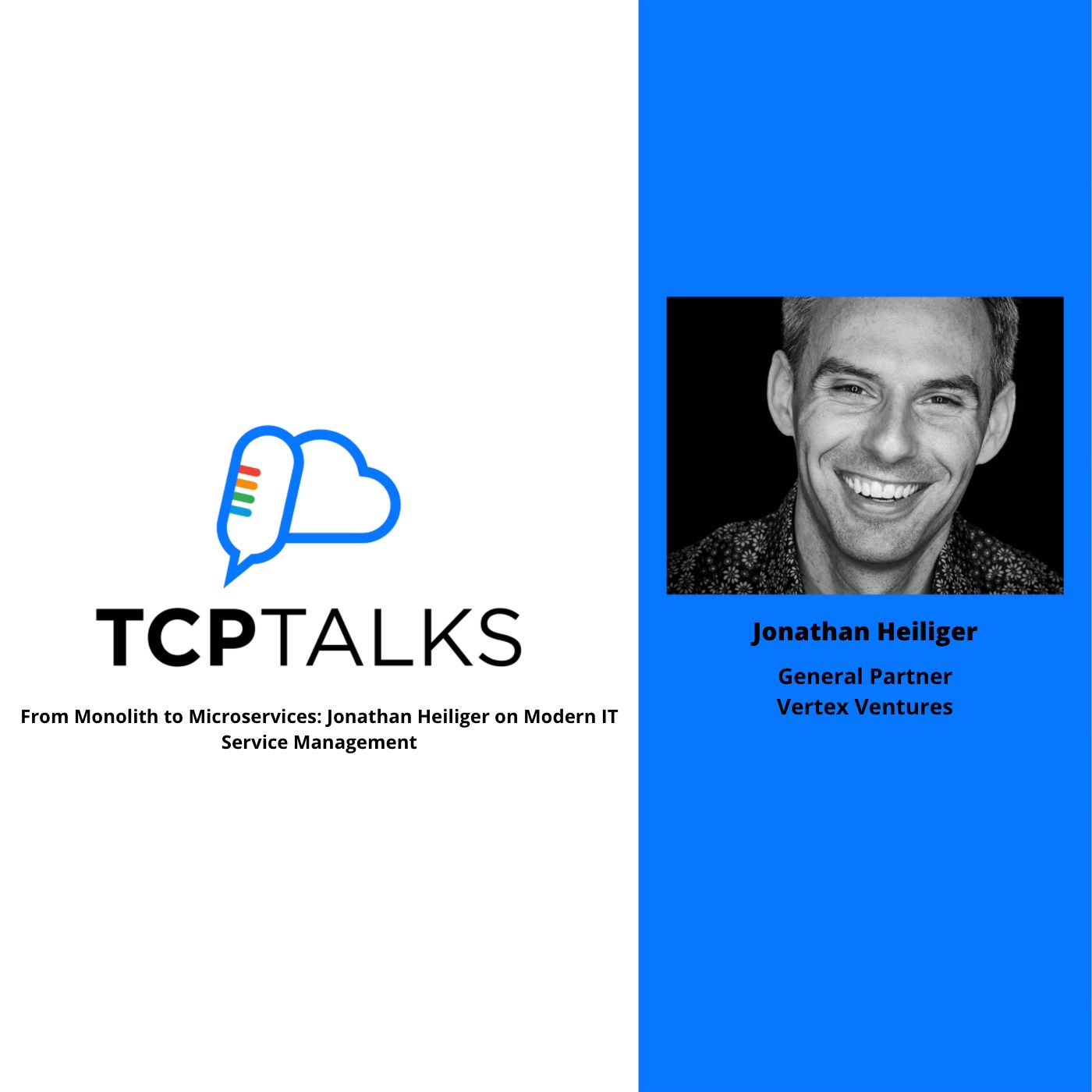 In this TCP Talks episode, Justin Brodley and Jonathan Baker talk with Jonathan Heiliger, co-founder and partner at Vertex Ventures: an early-stage venture capital firm backing innovative technology entrepreneurs. 
Earlier in his career, at just 19, Jonathan co-founded web hosting provider GlobalCenter and served as CTO. He went on to hold engineering roles at Walmart and Danger, Inc., the latter of which was acquired by Microsoft. He was also Vice President of Infrastructure and Operations at Facebook (now Meta), and a general partner at North Bridge Ventures. The latter firm's portfolio included Quora, Periscope, and Lytro (which has been acquired by Google.)
At Vertex Ventures, Jonathan has helped cutting-edge companies like LaunchDarkly and OpsLevel revolutionize the tech space with continuous delivery and IT service management solutions. Jonathan shares his insights into the shifting market of IT services and explains why decentralizing infrastructure management can help digitally native companies operate at a faster pace.
According to Jonathan, the question of IT service infrastructure isn't being adequately addressed. Without properly defining service ownership, businesses looking to scale run the risk of siloing critical knowledge, and losing track of services networks. 
Jonathan also discusses his own experiences running infrastructure at Facebook (oops, Meta), the merits of both centralized and decentralized IT services management, and how he and his partners at Vertex Ventures approach new investments.  
Featured Guest
👉 Name: Jonathan Heiliger
👉 What he does: Jonathan is a co-founder and partner at Vertex Ventures, an early stage venture capital firm that backs B2B software entrepreneurs. He held his first CTO role at 19, and has previously worked for Walmart; Danger, Inc.; Facebook (soon to be known as Meta); and North Bridge Ventures.
👉 Key quote: "We need systems to help us build bridges from the world of paper-based and in-memory to scaling to tens and then hundreds of microservices. It's that pain point of tracking all the info about apps and their services, dependencies, ownership and versions that I think is this big problem lurking below the surface."
👉 Where to find him: LinkedIn | Twitter 
Key Takeaways 
🚨 As companies rely on an increasing number of IT services, Jonathan says that it's imperative that technology leaders establish ownership of IT service management, and meticulously track their software and vendor partners. 
According to Jonathan, this kind of IT management is still done in a fairly rudimentary way, even for larger companies. "Every engineering team — even the most well run engineering orgs — the majority of them use Excel spreadsheets to track who owns what service, and even what services may talk to one another," he says. He sees this as a big problem that's going to catch up with companies one day.
🚨 When considering whether a centralized or decentralized IT management service infrastructure is best for you, Jonathan suggests doing a deep dive on your business objectives. 
For example, digitally native businesses, which rely on a vast network of microservices, might work better with a decentralized infrastructure. Non-digitally native brands, on the other hand, might benefit from a centralized system to ensure continuity in the technology. 
🚨 Avoiding vendor lock-in — i.e. becoming too dependent on a single service provider — is critical in keeping your business flexible and agile, but it can be tricky. Jonathan describes a situation at Facebook where vendor lock-in became a problem. The solution the company settled on involved bringing data center creation and management in-house. 
He argues, "the biggest way to manage vendor lock-in is through open source and through open communities."
Resources
Here's what was mentioned in the episode 👉
✔️ Vertex Ventures: an early stage venture capital firm that backs enterprising founders. 
✔️ OpsLevel: Microservice catalog software that helps companies track service ownership.
✔️ Kafka: an open-source distributed event streaming platform.
✔️ Kubernetes: an open-source system for managing containerized applications. 
✔️ Cloudflare: an infrastructure company that provides content delivery and DDos mitigation.
✔️ Amazon Lex: a service for building conversational interfaces using voice and text.
✔️ Kustomer: an omnichannel customer support platform for responses and requests.
✔️ Elasticsearch: a distributed search and analytics engine built on Apache Lucene.
✔️ MongoDB: database for apps.
✔️ Confluent: a stream data platform that enables users to organize and manage data. 
✔️ HashiCorp: provides open-source tools that enable cloud-computing infrastructure management.
✔️ Prometheus: Open-source monitoring and alerting system.
✔️ Grafana: open-source analytics and monitoring solution. 
✔️ LaunchDarkly: enables safe continuous software delivery and feature management for customers. 
✔️ Gitpod: allows users to continuously build git branches without waiting for dependencies.
✔️ GitLab: a DevOps lifecycle tool with a Git repository manager