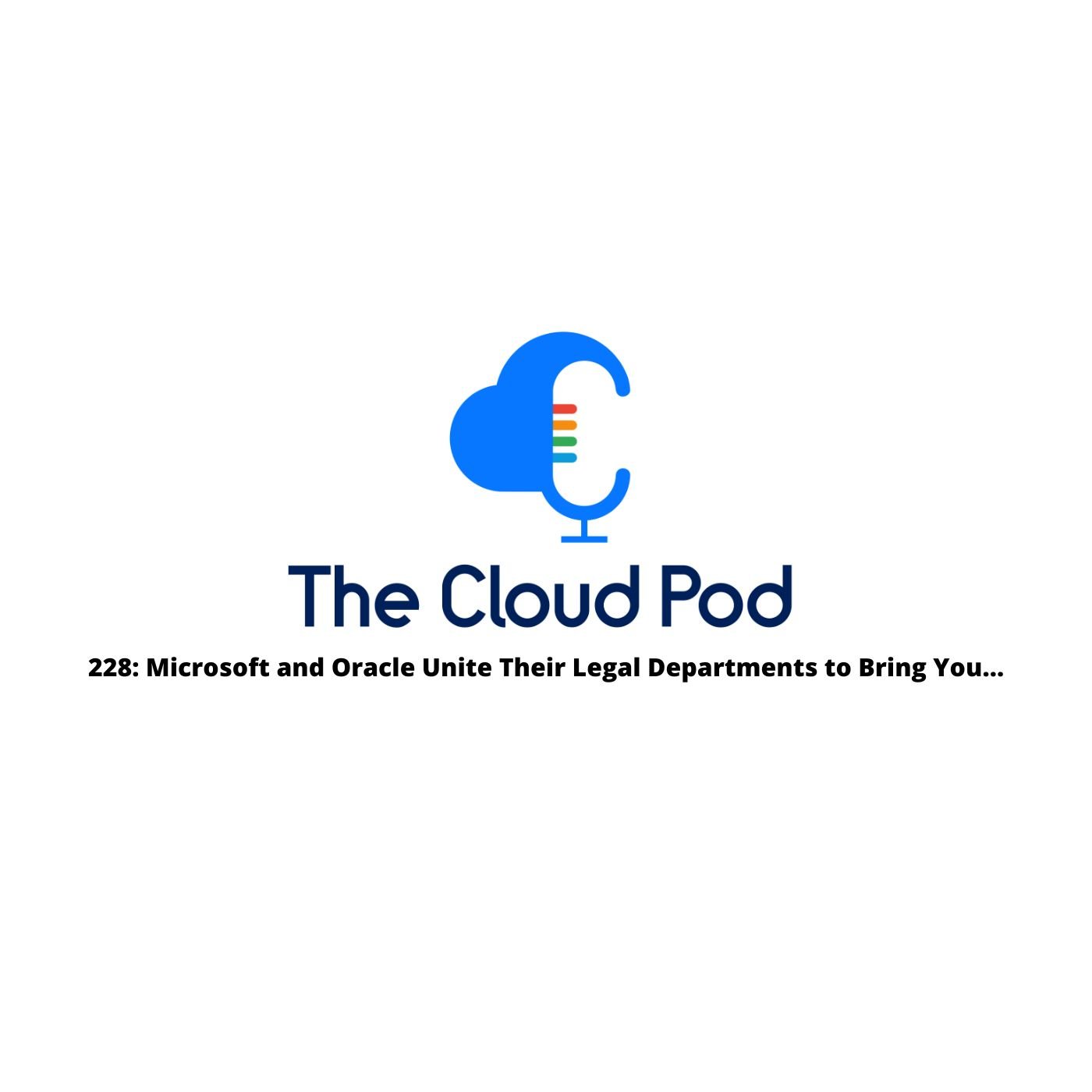 Welcome episode 228 of the Cloud Pod podcast – where the forecast is always cloudy! This week your hosts are Justin, Jonathan, Matthew and Ryan – 
Titles we almost went with this week:
😷The Cloud Pod gets scanned for a malware infection

🔒The Cloud Pod gives up on security 

💻The Cloud Pod burns cash on a new Mac instance

⚔️Copilot's Copyright Crusade – Microsoft's Got Your Back in Copyright Battles

☁️The Cloud Pod loves it when the clouds come together

🧾The Cloud Pod doubts 90 day account expirations are a good idea

🎩Matt brings a bit of class to the Cloud Pod
A big thanks to this week's sponsor:
Foghorn Consulting
provides top-notch cloud and DevOps engineers to the world's most innovative companies. Initiatives stalled because you have trouble hiring?  Foghorn can be burning down your DevOps and Cloud backlogs as soon as next week.
📰General News this Week:📰
AWS
02:56 Amazon EC2 R7a Instances Powered By 4th Gen AMD EPYC Processors for Memory Optimized Workloads AND New Amazon EC2 R7iz Instances are Optimized for High CPU Performance, Memory-Intensive Workloads
Amazon has a couple of new instances for us this week, including

Amazon R7a

, which is powered by the 4th generation AMD EPYC (Genoa) processors with a maximum frequency of 3.7ghz – this has 50 percent higher performance compared to the previous generation instances. 

The R7a supports the

AVX-512, Vector Neural Network

Instructions and Brain Float Point (bfloat16

https://en.wikipedia.org/wiki/Bfloat16_floating-point_format

).

It also supports Double Data rate 5 (DDR5) memory. 

From 1 vcpu and 8gb of ramp to 192 vcpu 1.5tb of memory

Not excited for AMD? Would you rather pay more money for an Intel version? Well fear not! Also available is the new

R7iz instances

– which are the fastest 4th generation scalable-based (sapphire rapids) instances with 3.9ghz sustained all-core turbo frequency.  

The R7iz has four built in accelerators including the advanced matrix extensions (AMX), intel data streaming accelerator (DSA), intel in-memory analytics accelerator (IAA) and intel quickassist technology (QAT).  

Listeners take note: you may need to use a specific kernel version, driver or compiler to take advantage of these. 

You can get these in 2 vcpu /16gb configurations up to 128 vcpu/1024gb of memory. 
04:39 📢 Matthew – "I'm just more impressed it's still DDR5. I feel like 20 years ago I built a computer with DDR3 or 4. So I really feel like…"
04:49 📢 Justin – "DDR4 was very long in the tooth.DDR4 lasted a very long time. DDR5 is actually pretty new, I think. I don't know when you can kind of mass population and servers, but it's been in the last 18 months. I mean, Jonathan's a little bit more hip into this hardware side. He might know if it's been longer than that, but it does seem like it has not been very long for DDR5…  I think it was a cost problem because the DDR5, I think it was right in the middle of the chip shortages. And I think they were putting it onto maybe the graphics cards, but they weren't using it really with the processors because they didn't need the bandwidth there. And yeah, it's taken a while."
08:11  AWS IAM Identity Center session duration limit increases from 7 to 90 days   
AWS Identity center admins can now configure the access portal session duration to last up to 90 days. 

This will define how long signed-in users can access the AWS portal and identity center-enabled applications before being prompted to re-authenticate. 

It can also be set between 15 minutes and 90 days, with the previous maximum being 7 days. 

While we can definitely appreciate flexibility, we're not too sure that extending this limit is a good security practice. However, this will not change the default IAM identity center duration, which will continue to be 8 hours.
09:18 📢 Matthew- "What is the use case that you want to authenticate for that long?"
11:15 Amazon EC2 M2 Pro Mac Instances Built on Apple Silicon M2 Pro Mac Mini Computers 
And it's GOOD NEWS! You can now run your IOS development pipelines on the Apple Silicon

M2 Pro Mac Mini computers

. 

These boxes have 12 core CPU, 19 core GPU, 32gb of ram and 16 core Apple Neural engine compute items. 

Remember: if you do use these, you'll need to pay for the whole month – because Apple doesn't like the cloud. Sad face. 
GCP
13:37  Reimagining the developer experience with Google Cloud 
Google points at a

McKinsey research paper

that found nearly 70% of the top economic performers are leveraging software for a competitive edge.  

Given that your software is a crucial differentiator, it's essential to critical resources making software.  

In the last decade trends like

shift left

, api first, containers, microservices and an explosion of choices from open-source software have transformed the developer experience. While these changes accelerate value creation for businesses, they also create new friction points and challenges. 

Getting started with a new cloud can be daunting and requires significant cognitive investment. Quickly, you'll be facing a maze of disparate cloud services and APIs.

As the complexity of building apps grows ,developers rely upon disparate and contradictory sources from product docs, product collateral, best practices, thirty party sites and developer community information.

Shift left extends the developers responsibility to include testing, security, performance and UX assessments. 

We're committing to a "modern developer experience" that empowers developers to: 

Stay in "flow state" longer: Developers are fully immersed in their favorite development activities and maintain context and focus. Whether they're learning about Google Cloud services, authoring or accessing APIs, writing, testing, or debugging code, they should be able to perform most of their duties from within their IDE to minimize interruptions.

Shorten "feedback loops": We aim to prevent distractions during the iterative processes that developers perform hundreds of times during the development cycle. Whether it's validating a local code change or component integrations, or ensuring that the features they built meet customer expectations, optimized wait times during these feedback loops have a significant impact on developer effectiveness.

Reduce cognitive load by

"shifting down"

: Developers can leverage platform abstractions to automate and push more tasks into the platform. Taking full advantage of managed services reduces the mental effort on your team, and allows them to focus on value-generating tasks.
14:47 📢 Justin – "Ultimately, they don't give a lot of advice of how you actually do all the things they're talking about that would benefit you at the end of the day. But they say Cloud Workstations is the center of all of that. And that is sort of a silly starting place. And then they call it, of course, AI, because who doesn't love AI?"
15:40 📢 Jonathan – "So, what exactly does it mean that they're leveraging software for a competitive edge? And what are the other 30% of people doing?"
16:11 📢 Ryan – "I have problems with articles like this because it misses on the value of these things. Like if you're going to say cloud workstations, like why is it cloud workstations? And because if you just deploy a fleet of cloud workstations, you've done nothing besides incur a bill."
Azure
18:51 Microsoft announces new Copilot Copyright Commitment for customers 
In case you didn't already know, Microsoft AI powered Co-pilots will change the way we work, making customers efficient while unlocking new levels of creativity. 

It's true!

While these transformative tools open doors to new possibilities, they are also raising new questions. Some customers are concerned about the risk of IP infringement claims if they use output produced by Generative AI.  

To address these concerns, Microsoft is announcing their new copilot copyright commitment. 

As a customer asks whether they can use Copilot services and the output they generate without worrying about copyright claims, MS says YES YOU CAN, and if you are challenged on copyright grounds, they will assume responsibility and the legal risk involved. 

Specifically, if a third party sues a commercial customer for copyright infringement for using Microsoft's Copilots or the output they generate, we will defend the customer and pay the amount of any adverse judgments or settlements that result from the lawsuit, as long as the customer used the guardrails and content filters we have built into our products.

There are important conditions to the program, recognizing that there are potential ways that the technology could be misused to generate harmful content. To protect against this, customers must use the content filters and safety systems, built into the product and must not attempt to generate infringing materials, including not providing input to a copilot service that the customer doesn't have appropriate rights to use. 
21:00📢 Jonathan – "…you can't copyright AI-generated works. It's not legally possible. And so if you're using AI to generate code for a product for your business, it's basically unprotected. So somebody else could copy it and run it and you have no claim whatsoever to it. If you go to court and they say, you stole my code and they always know it's generated by AI, you have no, there's no possible copyrightable content here. So that could be a problem for people. And the other thing is, you know, competing companies building the same product using the same tool could end up with very similar or not identical code bases. So, you know, who wins in that case?"
21:48📢 Justin- "Those legal challenges are working through the cases right now. But lots of case law will be coming in the next few years around AI, how you can use AI, how AI gets data for its models, et cetera."
22:37📢 Jonathan – "I think they want test cases to take to court, and I think they want their name on them."
22:46 📢 Justin – "Yeah, because then they have a legal precedent in their name."
23:05 Malware Scanning in Defender for Storage
Now generally available! Woohoo!

Pricing $0.15/GB of data scanned

General Availability of Malware Scanning: Microsoft Azure has announced the general availability of malware scanning capabilities within Defender for Storage.

Enhanced Security: This feature strengthens the security of Azure storage by detecting and mitigating malware threats, safeguarding data stored in Azure Blob Storage and Azure Data Lake Storage.

Real-time Protection: Users can benefit from real-time protection, threat alerts, and seamless integration with Azure Security Center, ensuring a secure storage environment in the clouds
23:32📢 Justin – "Which, having to implement controls around protecting object storage for viruses, I'm just so glad this is built in. Because I wish AWS would get this, I wish GCS would get this, The vendors you have to use, it slows down the transaction. It has to be in line. It's slow, it's expensive, it never works very well in my opinion. And it's all check a checkbox with security. But if it actually worked, it could have value."
26:35 Microsoft expands partnership with Oracle to bring customers' mission-critical database workloads to Azure 
Microsoft and Oracle are deepening their partnership to offer customers the ability to run mission-critical database workloads on Microsoft Azure.

This collaboration aims to provide a seamless and integrated experience for organizations looking to migrate and manage their Oracle database workloads on Azure.

Microsoft and Oracle are working together to optimize performance, security, and scalability for Oracle workloads on Azure, enhancing the overall cloud experience.

The partnership includes joint engineering efforts, such as optimizing Oracle software to run on Azure infrastructure and developing integrated solutions.

Customers will have access to Oracle's cloud services on Azure, enabling them to leverage the strengths of both companies to meet their database needs in a flexible and efficient manner.

Is this because they are in the same data centers in many places so it's easy for them to do cross connects?
28:39📢 Ryan – "This announcement screams mutually assured destruction to me somehow."
Oracle
Oracle and Microsoft expand partnership to deliver Oracle database services in Azure 
Microsoft and Oracle are partnering to bring Oracle database workloads to Azure.

This partnership will provide customers with a seamless and integrated experience.

The partnership includes joint engineering efforts to optimize performance, security, and scalability.

Customers will have access to Oracle's cloud services on Azure.

This partnership will allow customers to leverage the strengths of both companies to meet their database needs.
Continuing our Cloud Journey Series Talks
31:41 Light the way ahead: Platform Engineering, Golden Paths, and the power of self-service
Engineering execution consistency is crucial in software development for better collaboration and efficiency.

Inconsistent practices can lead to issues like inefficiencies and reduced quality.

Google Cloud's Golden Paths initiative helps achieve engineering execution consistency.

Golden Paths provide recommended practices, tools, and documentation for different aspects of software development.

Benefits of following Golden Paths include reduced complexity, improved collaboration, faster onboarding, easier maintenance, and better software quality.

Golden Paths can be customized to specific team needs while maintaining consistency.

Google Cloud leverages its expertise to keep Golden Paths up-to-date.

Adopting Golden Paths allows teams to focus on delivering solutions rather than figuring out best practices.
33:06 📢 Ryan – "As we've put more and more into shift left, as we've… you know, really taken and embodied DevOps practices, we've put a lot of responsibility on these dev teams in order to give – to enable them – to let them own their own destiny. I really see this as a reaction to that, as just, you know, teams are overloaded and overwhelmed and businesses are struggling to keep up when you have, you know… 20 dev teams all creating their own way of doing business. And you have to somehow have an InfoSec policy that sort of understands all that and can vet the compliance or the security of it all. And finance becomes a concern as well because certain things are gonna be more expensive than other things. And so I think this is a natural reaction."
38:13📢 Matthew – "What I would say though, and I've gone back and forth on this, is make sure whatever you're implementing makes sense for your company. Like it's great to build a platform to run containers or whatever you want to be doing;  images, and providing golden images or whatever you're providing for your end user, whether that be development teams or whoever they are. But make sure you don't also over engineer."
After Show
47:16 Can Yahoo Be Saved? How Apollo Is Rebuilding an Internet Icon 
This article is behind a paywall, so we apologize in advance – but it's worth it. We promise. 

Ryan's former employer was purchased by Apollo in September 2021, and they have gone on an interesting journal. The Information has an article about how Apollo is rebuilding Yahoo.

"I always knew these products had seen better days," said Lanzone, the CEO of Yahoo, over a video call in late August. "Even though they still have large audiences, they need to be modernized—pretty much every single one of them."

Apollo has of course cut significant costs from the company as all good PE does, but they've made tough decisions about business that were struggling or no longer able to keep up with competitors. 

Sales in key areas like ad sales were off the mark 18% to 1.4b in the 4th quarter last year.  This led to a layoff of 1600 yahoo employees. 

Yahoo is allegedly on pace to generate 7B in gross revenue this year, down from 8 billion gross last year. 

Several assets were sold to save the company after the acquisition including selling branding rights in Japan.  

They also sold their content delivery network edgecast and smaller assets like IP addresses, which allowed Apollo to return the entirety of its 2 billion equity investment to its limited partners. 

They plan to hold the company for at least 5 years most likely through a new IPO
Closing
And that is the week in the cloud! We would like to thank our sponsors Foghorn Consulting. Check out our website, the home of the Cloud Pod where you can join our newsletter, slack team, send feedback or ask questions at theCloud Pod.net or tweet at us with hashtag #theCloud Pod