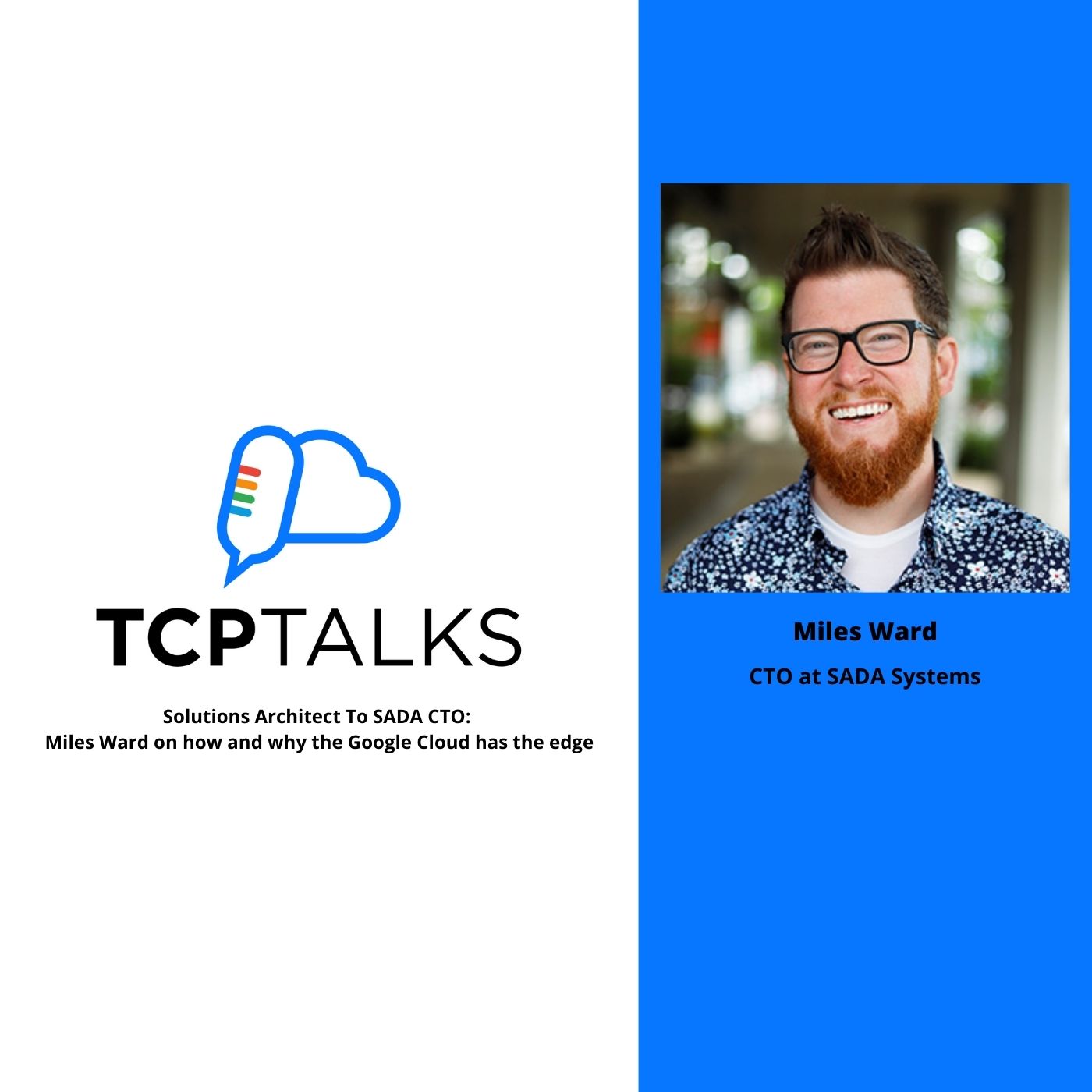 In this episode of TCP Talks, Justin Brodley and Jonathan Baker talk with Miles Ward, the founder of the Google Cloud's Solutions Architecture practice. Currently, Miles leads the cloud strategy and solutions capabilities as the Chief Technology Officer for consulting and IT services company SADA.
Startups have helped increase the popularity of open source products among enterprise businesses. Changing systems can be a struggle for larger, more traditional companies. But legacy businesses also want to accomplish more in a shorter amount of time, which requires shedding clunky, legacy systems. 
"Those building blocks make it so that companies operate at a certain rate of change. And I know zero companies asking me to slow down their rate of change," he notes. 
The evolution of product compatibility is also discussed.  Product sellers need to help customers understand how much of their system fits and how much doesn't fit in one solution compared to another, Miles says. Customers need to have a clear understanding of what's involved and how much work it's going to be.  
In addition, Miles shares his thoughts on the role of the CTO as well as the benefits of rebranding a product everybody hates.
Featured Guest
👉 Name: Miles Ward
👉 What he does: As CTO of SADA, Miles leads the cloud strategy and solutions capabilities. His remit includes delivering next-generation solutions to challenges in big data and analytics, application migration, infrastructure automation, and cost optimization; and engaging with customers on their most complex and ambitious plans around Google Cloud. 
👉 Key quote: "There used to be big crunchy legacy impediments to adoption… But it's 2021 — live in the future, that shit works. Now it's more about making it easy enough and predictable enough to consume that folks can unlock the business justification." 
👉 Where to find him: LinkedIn | Twitter
Key Takeaways
🚨 Gone are the days when products from different technology providers, like Oracle or SAP, couldn't work together to solve a customer problem. These days, companies need to make products easy and predictable enough so customers can unlock the business justification straight away.

🚨 For Google Cloud, the next phase of growth will require investment in higher-level relationships with customers. Miles references his experience with current Google Cloud CEO Thomas Kurian (TK).   

"TK is super focused about spending the majority of his time face to face with customers," he says. "He's not doing it to be a glad-hand, he's deal making and proposal pushing and thinking through the machinery of how to build higher level relationships." 

🚨 There's a huge opportunity to help the "the real world divisions inside of real world businesses"  — not just serve the IT department.

Miles says, "I think there's a bunch of cloud providers that are working really hard now to facilitate the plumbing and governance and oversight and security controls and operational management of what is — not a hybrid between their data center, and a cloud — a hybrid between their SaaS fleet and the couple of things they still need to run on their own."

🚨 Worried about leveraging a Google solution and then having them pull the plug on it? Miles doesn't think you should be too concerned about deprecation. 

"I think they have heard this feedback really loud and clear," he says.  "There's a whole bunch of people that have made it really obvious that if you're going to provide these kinds of tools to outside team members, you're going to have to figure out how to maintain them long term. I think the clearest and easiest path for that is to have the majority of products be built as open source," Miles adds.
Resources

Here's what was mentioned in the episode 👉
Top quotes in this episode
[02:55] "There are partners for Google that have been around for a while — a few of them have been around as long as SADA. They saw early on that there was this gap in the Microsoft technology stack that some of the Google building blocks served well."
[10:47] "The cultures that [Amazon and Google] they constructed have ramifications on the way that these two businesses operate."
[25:38] "I think the vast majority of what's needed to make those startups successful is better product — product designed to meet them where they are, not just the compatibility with legacy stuff."
[28:06] "There's a huge network effect around the use of Amazon. I think it's a big exception to the rule today to see a startup that's building from scratch on GCP. … I think that there's an expectation in the startup ecosystem that there's going to be massive credits and offsets and effective investment from the cloud providers to help that happen. All of the work that Google has done to try and focus on the business of interacting with startups, as opposed to just the pure technology product side, is under-invested in comparison to how Amazon and Azure have worked in this space." 
[43:16] "There's a whole bunch of smart hard-working operations people maintaining a product for the tiny subset of their customers that actually use the thing and haven't migrated off. I think I would rather see the company that I invest in spending that money building me the next new thing I'm going to really need instead of that old thing that I don't."