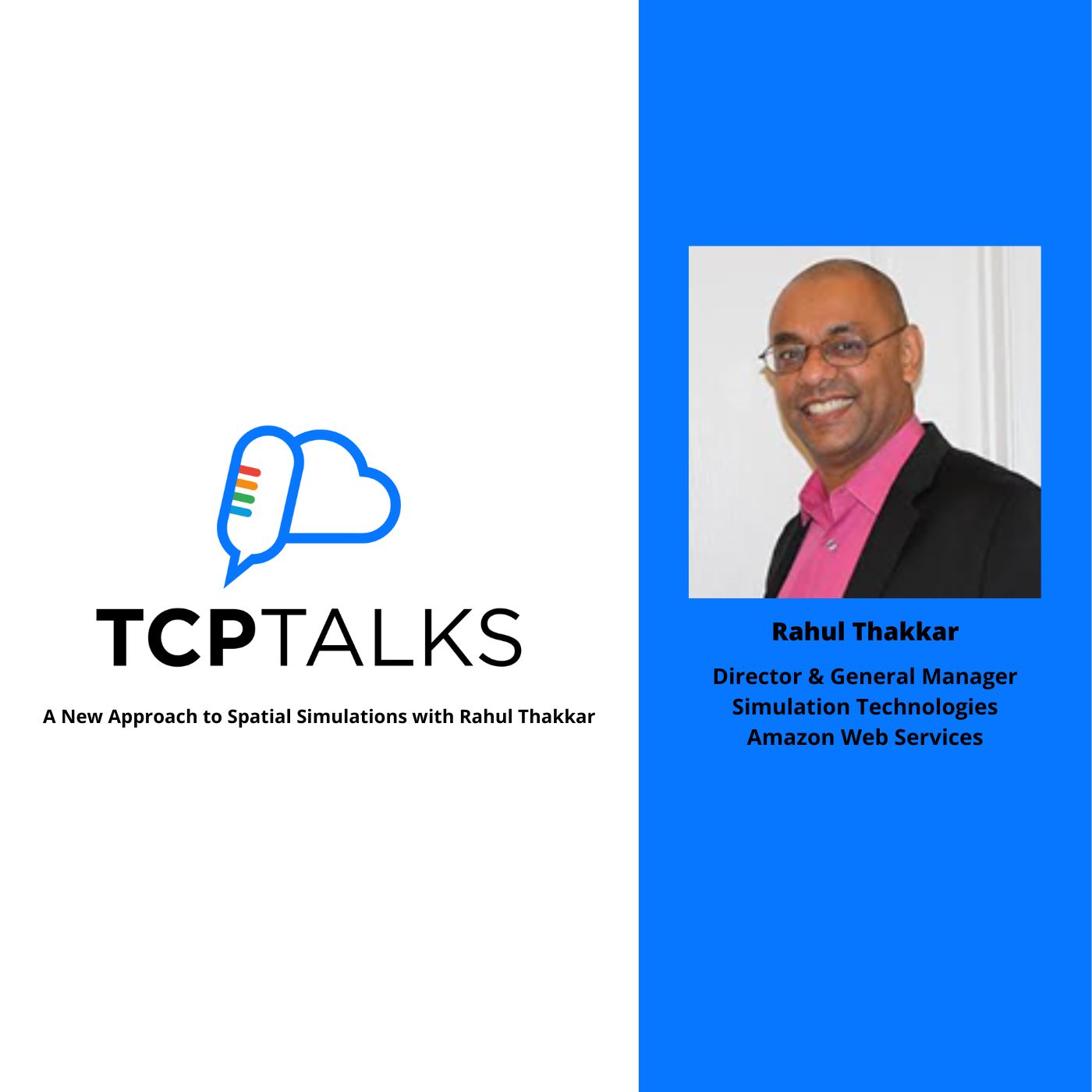 Spatial Simulations with AWS SimSpace Weaver
In this episode, Peter sits with Rahul Thakkar to discuss the revolutionary AWS SimSpace Weaver, highlighting its unique function and applications across several industries.
Rahul Thakkar is the Director and General Manager of Simulation Technologies at Amazon Web Services. Before AWS, he held multiple executive roles at Boeing, Brivo, PIXIA, and DreamWorks Animation. He is an inventor, and global technology executive with a background in cloud computing, distributed and high-performance computing, media and entertainment, film, television, defense and intelligence, aerospace, and access control.
His film credits include Shrek, Antz, and Legend of Bagger Vance. In 2002, he was part of the team that won an Academy Award for Shrek as the Best Animated Feature. Again in 2016, at the 88th Annual Academy Awards, Thakkar received a Technical Achievement Award.
Notes
AWS SimSpace Weaver enables customers to run extremely large-scale spatial simulations without having to manage any of the underlying infrastructure. It also removes the complexity of state management of entities as they move about the simulation. Previously, carrying out such simulations would be done sequentially, in a cumbersome manner over years but now it can be done in parallel in weeks. Different organizations have tried out this functionality for several scenarios and the results have been amazing. This value was largely made possible due to the approach of working with customer feedback.
Rahul's interest in the cloud came much later in his career which started initially in the R&D department of the Motion Picture industry where he created many of the complex graphics in movies. He later moved into a small start-up that was developing technologies for satellite imagery and mapping, and from here he moved to aerospace. Generally, he observed the problem that it is very expensive for companies to maintain their infrastructure when dealing with simulations. It also would drain resources and distract from the main focus of the company. Eventually, knew he had to use AWS, and now he works with them.
All the other primitive tools within AWS are being consumed to build the service. There is also the ability to write to S3 so that customers can write the simulations out. This helps customers to remember how the simulation played out.
Relating this new service to the metaverse, Rahul believes that when it comes to the metaverse, each organization has its vision of what it should be. However, AWS built the tools to empower these organizations to build their metaverses. Despite the possibility of having competition from Azure or GCP, the focus of AWS would remain on the customer and their needs, innovation on their behalf.
Identifying new problems that the service would be very applicable for is a great challenge that AWS relies on customers for, to help AWS envision where they want to go with the service. There are definitely many companies running simulations but it is hard to predict how many would migrate to the AWS SimSpace Weaver because it is still a new product. Nonetheless, a lot of industries are interested in this new service. These include smart cities, organizations ranging from local to federal or international, logistics and supply chains, large-scale event planning, or any situation where there is a need to simulate a large problem with digital replicas of the real world.
Top Quotes
💡 "The fact that we worked from the customer backwards is something that allowed us to deliver the kind of value that they're getting right now with AWS SimSpace Weaver"
💡 "Each one of these organizations have their own vision of a metaverse"