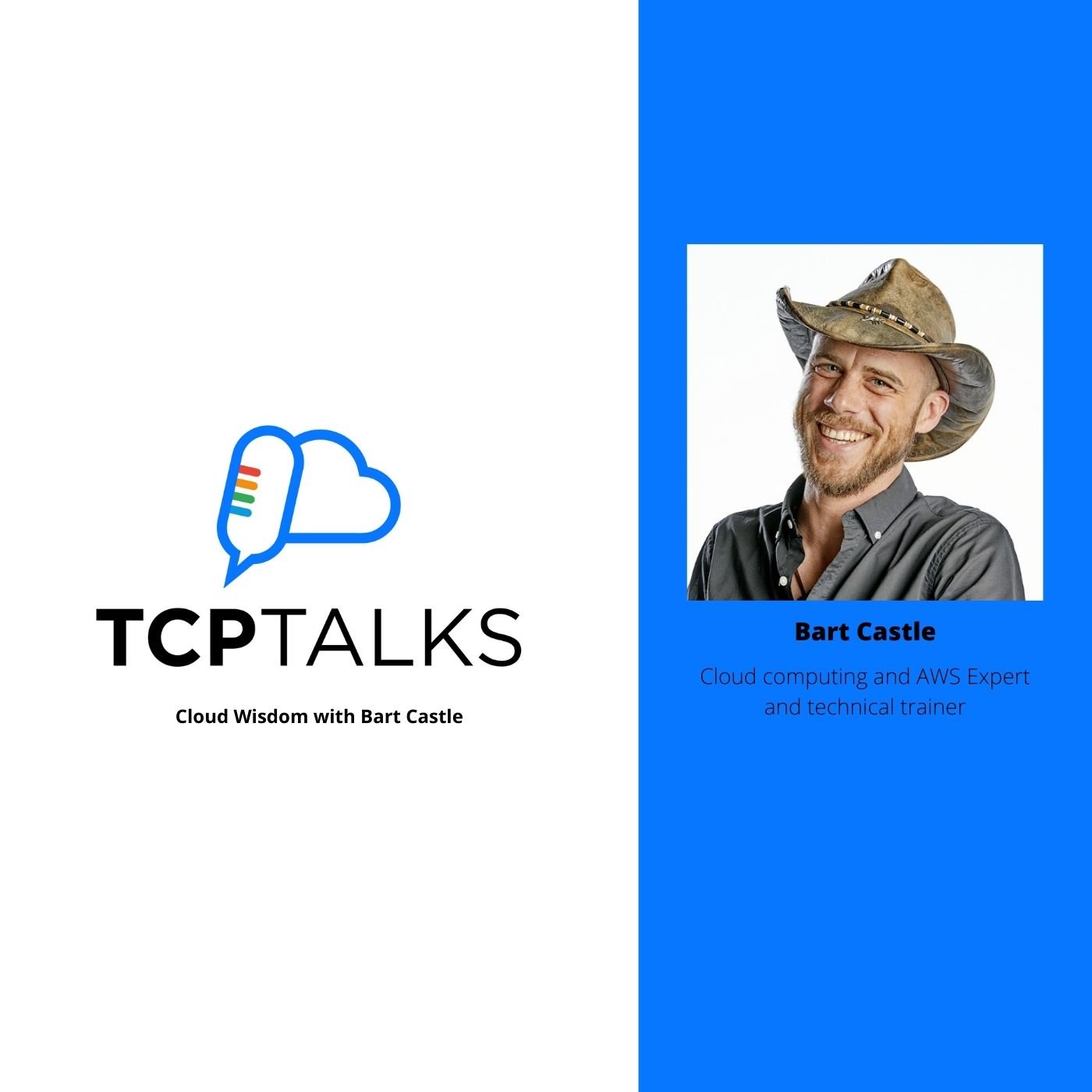 In this TCP Talks episode, Justin Brodley and Jonathan Baker talk with Bart Castle, an AWS and cloud computing trainer and media personality. Bart works with IT training company CBT Nuggets and also does cloud-migration consulting projects. 
Bart shares the patterns he seems based on training demand and also advises how to decide which certification to go for next. He discusses the importance of solving business problems that will help achieve the business' goals while retooling and transforming systems.
"At this point in my career, every technical conversation that I have is always paired up with a business value conversation," he notes.
But how should a data team shift focus to better solve business problems? He suggests looking for patterns. Uncovering patterns can help determine actionable steps to maximize efficiency and enable new business opportunities.
Bart also discusses cloud computing trends, CloudFormation stacking, hybrid deployments, and containers.
Featured Guest
👉

Name:

Bart Castle

👉

What he does:

Bart is a cloud computing and AWS expert and technical trainer, as well as a consultant. 

👉

Key quote:

"In the end, we're still looking for those tools that will bridge gaps. This is why, for me, being an integrations professional and getting what integration means is skill number one across all different arenas. Everywhere you look, it's an integration problem." 
Key Takeaways
🚨 When thinking about all the different training options, Bart suggests pursuing the certification that would help you land a specific job or role. If you're not sure what your next job might be, look at SysOps administration first since it is closest to traditional network help desk operations support roles.

🚨 Based on his training background, Bart sees a rising interest in network automation. Many teams are working with various vendors to address networking and connectivity and to make the transition from command line administration to Python automation. 
"A lot of what I'm seeing here is the switch from real deep specialty to real broad generalization, and that can be an overwhelming bite to take when you look at how much information there is to consume," says Bart. 
🚨 Learning how the tools work is the easy part, but you have to dig deeper to make it work for your specific business use case. Bart recommends looking for white papers, as well as case studies and blog posts. Communities (like TCP!) can also point you in the right direction.  
Bart says, "Once you get those examples of how a piece of input data with the right transformation with this pairing of reporting can solve this problem — now, you're putting tools in your belt that are going beyond just using the tools, and how to actually solve business problems with them."
Here's what was mentioned in the episode 👉
✔️ CBT Nuggets: provides in-demand training, primarily in IT, project management, and office productivity topics.
✔️ Amazon Simple Storage Service (S3): a cloud object storage service. 
✔️ "What is DevOps?": an AWS blog explaining the DevOps model.
✔️ "Infrastructure as Code" (IaC): a Microsoft blog describing the IaC managing model.
✔️ Amazon Redshift: a data warehouse that can query data into an AWS S3 data lake.
✔️ Amazon SageMaker: an AWS service that provides developers with the ability to build, train, and deploy machine learning models.
✔️ Amazon Elastic MapReduce (EMR): an AWS cloud big data platform that allows data processing with open source tools. 
✔️ "What is a data lake?": an AWS blog.
✔️ Terraform by HashiCorp: an open-source tool that can create and manage IaC.
✔️ "Working with Nested Stacks": an AWS blog on the practice nested stacks in CloudFormation.
✔️ AWS re:Invent: a three-week virtual conference.
✔️ AWS Cloud Development Kit (CDK): an open-source development framework to model and provision cloud application resources.
✔️ OpenStack: an open-source software that uses APIs or a dashboard to control pools of compute, storage, and networking resources.
✔️ Google Fiber: provides high-speed broadband service with fiber optic cables to homes and businesses.
✔️ Global Knowledge: virtual IT training classrooms.
✔️ Docker: a tool for developers to build containerized apps.
✔️ Heroku: an app development platform. 
✔️ "Bayer Crop Science seeds the future with 15000-node GKE clusters": a Google Cloud blog about massive-scale GKE clusters.