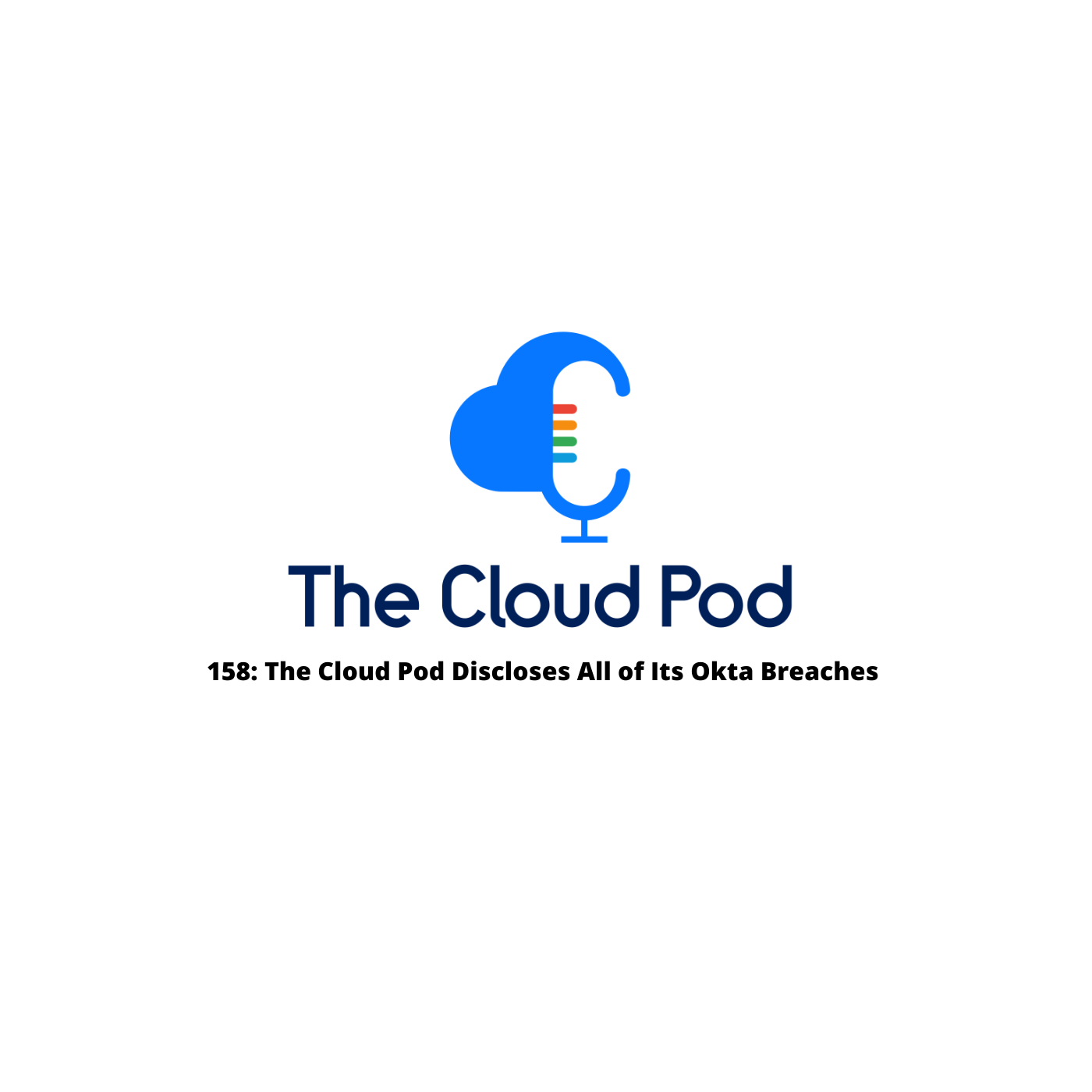 On The Cloud Pod this week, it's a brave new world for Ryan, who learns all kinds of things. Plus the Okta breach leads to customer outrage over not telling them for months, AWS announces its new Billing Conductor, and Google expands Contact Center AI for a reimagined customer experience. 
A big thanks to this week's sponsor, Foghorn Consulting, which provides full-stack cloud solutions with a focus on strategy, planning and execution for enterprises seeking to take advantage of the transformative capabilities of AWS, Google Cloud and Azure.
This week's highlights
🚨 Okta is in big trouble with furious customers after it fails to disclose a security breach…

for months

. 

🚨 AWS announces the brand new and very welcome AWS Billing Conductor to much fanfare and great rejoicing.

🚨 Google expands end-to-end with Contact Center AI for a touted "reimagining" of the customer experience.
Top Quotes  
💡 "The breach is bad enough, but then the handling of the communications of it is really what seals the deal and where you really do all the damage. It's one thing if someone attacks you and gets in through something unintended … that's not going to shake my confidence in using a company. But someone who's hiding it, someone who's clearly dancing around it, makes me think that they're not well organized."

💡 "Google is notoriously bad for customer support … and it's very difficult to be a satisfied customer of Google when you have to deal with their support channels. So anything they can do for anybody to make the customer experience less frustrating is good. Let's hope that this doesn't just turn into another

agent, please

situation where all you want to do is break out of the system and just speak to a real person who can apply some logic."
General News: Okta Breach Shenanigans
AWS: Money Money Money
GCP: ReAImagining Customer Experiences
🤖 "Agent, please." Let's hope Google's

Contact Center AI expansion

won't leave customers as frustrated as they usually are and that this is a step in the right direction for support.

🏎️ Go go go! Announcing

Go 1.18

, now generally available with Google Cloud. But will Rust eat Go's launch? 

🤞 Google is leading the way to our zero-trust future with its

new CA Service

.
Azure: Got Your PhD in Acronyms Yet?
Oracle: After Weeks of Silence, a Story Emerges
TCP Lightning Round
⚡ Justin rockets ahead while Peter's absence leaves him continuously flagging, with the scores standing at: Justin (4), Ryan (1), Jonathan (1), Peter (0).
Other Headlines Mentioned:
Things Coming Up:
April 6th – Data Cloud Summit
May 4th – Google Workspace Summit
April 12th – Paris
April 20th-21st – San Francisco 
May 4-5th – Madrid
May 11-12th – Berlin
May 18th – Tel Aviv
May 23-25th – Washington DC