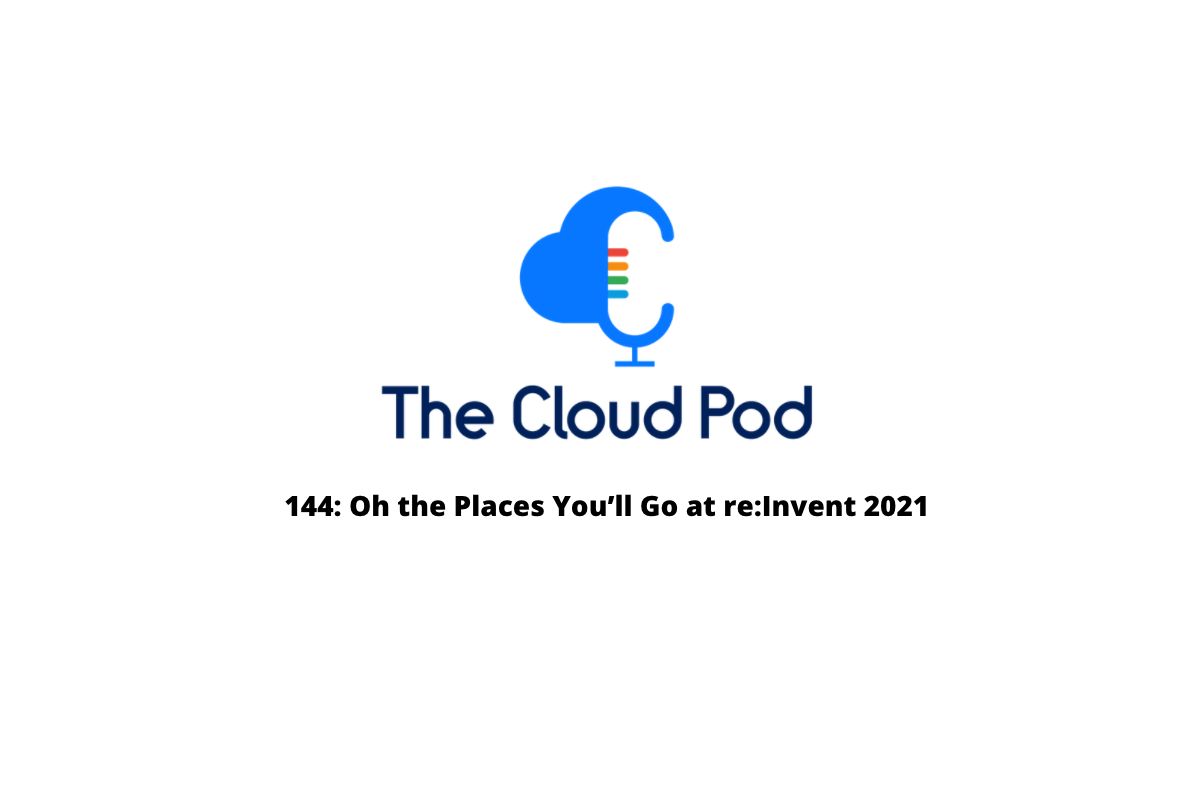 The Cloud Pod: Oh the Places You'll Go at re:Invent 2021 — Episode 144
On The Cloud Pod this week, as a birthday present to Ryan, the team didn't discuss his advanced age, and focused instead on their AWS re:Invent predictions. Also, the Google Cybersecurity Action Team launches a product, and Microsoft announces a new VM series in Azure.
A big thanks to this week's sponsors:
Foghorn Consulting

, which provides full-stack cloud solutions with a focus on strategy, planning and execution for enterprises seeking to take advantage of the transformative capabilities of AWS, Google Cloud and Azure.
JumpCloud

, which offers a complete platform for identity, access, and device management — no matter where your users and devices are located.

 
This week's highlights
🚨

AWS releases new G5 instances

, which feature up to eight NVIDIA A10G Tensor Core GPUs. That's super, super fast. 

🚨

Google's

Cybersecurity Action Team

adds Risk and Compliance as Code (rCaC) Solution

.

🚨

Microsoft announces the NDm A100 v4 Series,

and claims another spot on the  TOP500 supercomputers list.
Top Quotes
💡  "[AWS Resilience Hub] is already building on top of the FIS, which is interesting, but at some level I just want you to execute Lambda functions that validate things for me, and then tell me that I'm resilient because I validated it with Lambda."

💡 "Anything that empowers more dynamic and interactive web development I'm all for."
Amazon Web Services: Give Us Your Car  
AWS re:Invent 2021 Predictions    
Prediction rule: If it's already been officially announced by Amazon, then it doesn't count. It needs to be in the rumor mill and somewhat specific.

Each contestant will also predict how many total announcements are made, which will be used in the case of a tiebreaker.

Jonathan
New silicon from Annapurna Labs, for a new Inferentia chip

AWS will partner with data centers in different countries, especially in Europe

More customer insights into their carbon footprints
A dashboard or visualization to help you manage organization-level networking

Data tokenization, anonymization and/or data scrubbing as a service or DLP solution

App configuration on demand
Graviton 3, or whatever AWS names its new version of a general purpose ARM-based processor

Zero Trust networking solution

New Honeycomb features, and a lecture on the benefits of no-code
Babelfish for Oracle

Serverless Neptune

Serverless DocumentDB with MongoDB compatibility
Google Cloud Platform: A Bit of a Stretch
🤨 Memorystore for Redis Read Replicas is now in public preview, supposedly allowing users to scale their

applications' read requests by 6x

. This is a bit of a stretch: The read requests are not simultaneously going to all six replicas.

🎥 The Google Cybersecurity Action Team announces the launch of

Risk and Compliance as Code (rCaC) Solution

. While easily mistaken for a terrible action movie sequence, this is actually pretty cool because it's built into the platform, so there's no circumventing it. 

👍 Google announces the

general availability of Vertex Pipelines

. Vertex Pipelines is the best way to scale your machine learning (ML) workflow and run it as a pipeline, where each pipeline step is a distinct piece of your ML process. 
Azure: Thirsty Work
TCP Lightning Round
⚡ Jonathan elbows the others out of the way with a zinger at the end and takes the point this week, leaving the scores at Justin (16), Ryan (12), Jonathan (14), Peter (2). 
Other Headlines Mentioned: