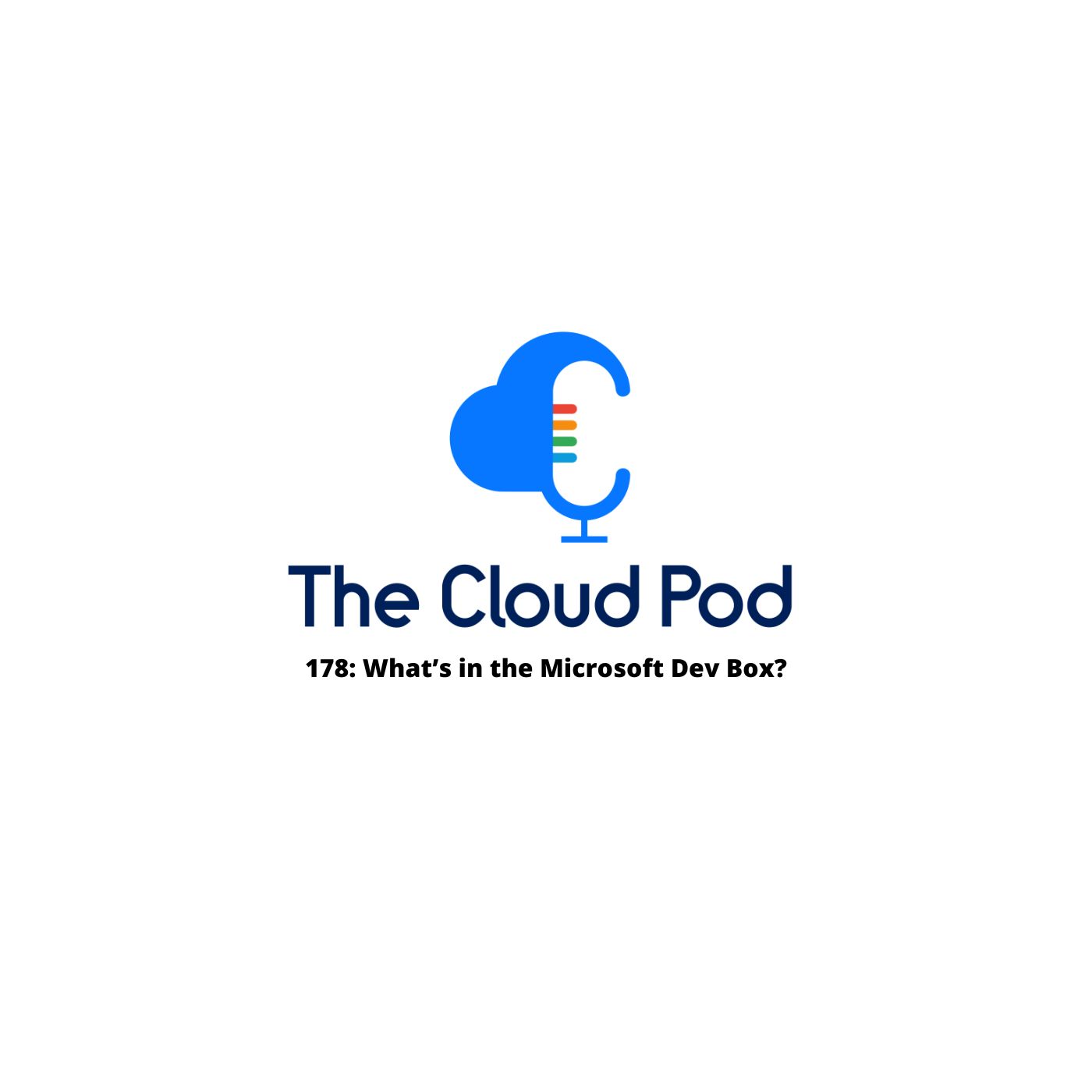 On The Cloud Pod this week, the team chats cloud region wars to establish the true victor. Plus: AWS Storage Day offers a blockhead badge, all the fun of the Microsoft Dev Box, and Google sends people back to sleep with its Cloud Monitoring snooze alert policy.
A big thanks to this week's sponsor, Foghorn Consulting, which provides full-stack cloud solutions with a focus on strategy, planning and execution for enterprises seeking to take advantage of the transformative capabilities of AWS, Google Cloud and Azure.
This week's highlights
🚨 AWS Storage Day 2022 marks the fourth annual event streamed live on Twitch, with its File Cache service announcement and five new available learning badges.

🚨Google now offers alert policy snoozing in Cloud Monitoring for maintenance or non-business hours.

🚨Microsoft previews its Dev Box, a managed service enabling developers to create cloud workstations.
Top Quotes  
💡 "I found it completely shocking that this didn't exist in AWS — that you only had enable/disable — when first moving over there. So this is a fantastic feature for Google Monitoring. I love it."

💡 "This seems like one of those things I'd like, but half the fun of starting a new project is installing a new version of Python or something that completely hoses my local laptop. And I spend the next three or four days frantically trying to undo what I've done that breaks six other things."
AWS: It's Storage Day!
GCP: Hitting the Snooze Button
❓ Query Library offers new tools for

increasing developer productivity

. You should eventually be able to actually save your queries into a custom Query Library, but we're still waiting on this.

😴 A snooze, not a pause: Google Cloud Monitoring can

now send alerts to sleep

, which is perfect for maintenance and non-business hours.  

☁️ Google Cloud Deploy gets

several awesome new features

this week, including faster onboarding with Skaffold, delivery pipeline management and expanded enterprise features.
Azure: Microsoft Dev Box Treats
🇶🇦 Microsoft announced its new cloud region in 2019. Two and a half years later,

Qatar is finally here

. 

🧑‍💻

Microsoft previews its Dev Box

, a managed service that enables developers to create cloud workstations and focus on writing their code instead of building environments to run it.
TCP Lightning Round
⚡ The

lightning

lightning round this week (sans Peter) keeps the scores at: Justin (6), Ryan (4), Jonathan (3), Peter (1).
Other Headlines Mentioned:
Things Coming Up:
DevOps Enterprise Summit US Flagship Event 🎉

The Cosmopolitan of Las Vegas

–

October 18th-20th

MS Ignite – November 2nd-4th

AWS Reinvent – November 28th-Dec 2nd (assumed)

Oracle OpenWorld – TBD

Microsoft events – TBD

Check for status
After Show:
Post-pandemic remote working, Apple's enforcing three days a week in the office with a new deadline in place.