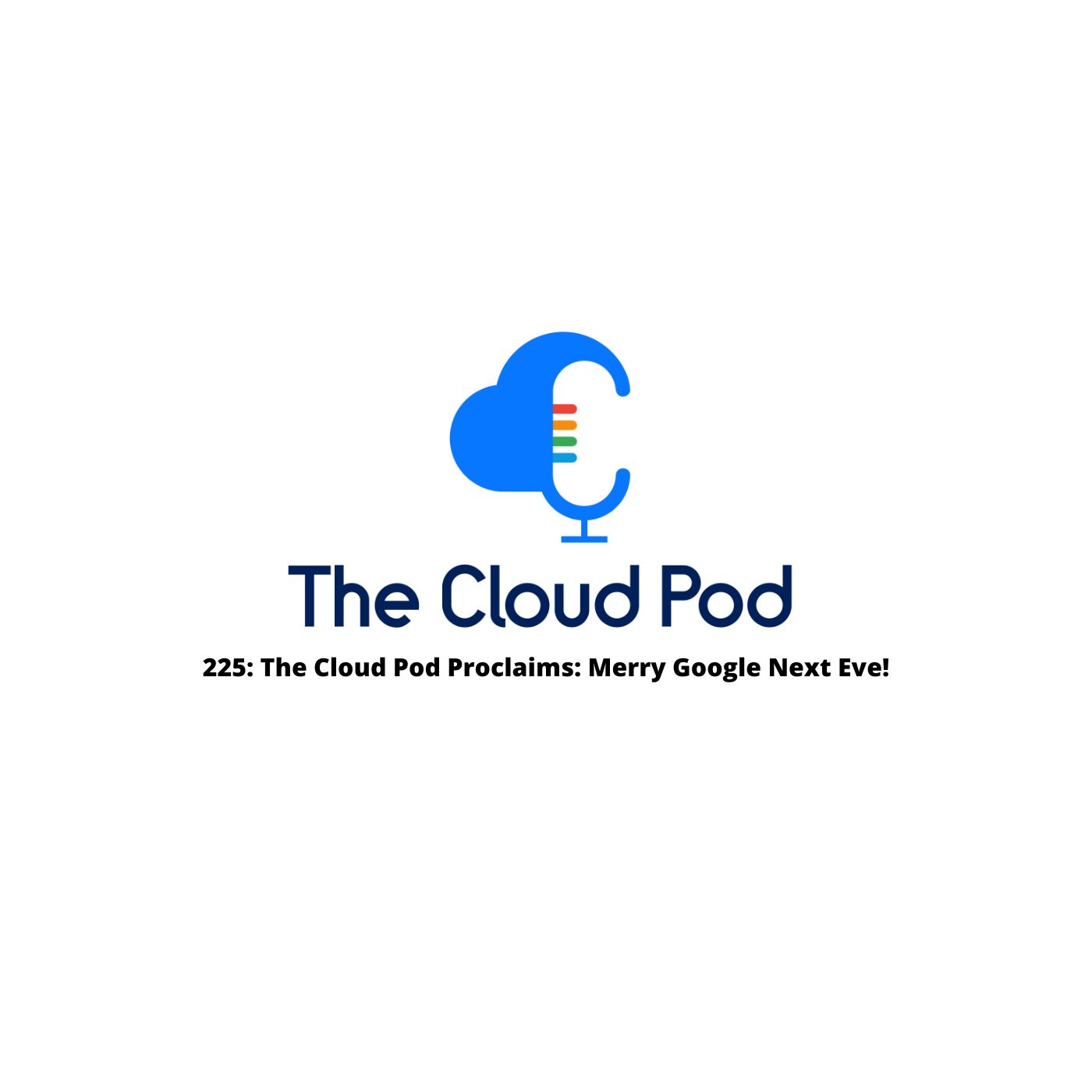 Google Next Eve!
Welcome episode 225 of The CloudPod Podcast – where the forecast is always cloudy! Justin, Jonathan, and Ryan are your hosts this week as we discuss all things Google Next! We talk schedule offerings, make our predictions about announcements, and prepare to be generally wrong about everything. Also – do you like stickers? Everyone likes stickers! Be on the lookout for us, and maybe you can have one. 
Titles we almost went with this week:
None! Google Next is the next big thing, so of course it's the title. 
A big thanks to this week's sponsor:
Foghorn Consulting
provides top-notch cloud and DevOps engineers to the world's most innovative companies. Initiatives stalled because you have trouble hiring?  Foghorn can be burning down your DevOps and Cloud backlogs as soon as next week.
📰Pre-Show📰
01:23 Following up on some HashiCorp News: 
HashiCorp updates licensing FAQ based on community questions 
Hashicorp has responded in their FAQ to some of the concerns we brought up when we talked about them moving to the BSL license in our last show. 

Question: Can I host the HashiCorp products as a service internal to my organization?

Answer: Yes. The terms of the BSL allow for all non-production and production usage, except for providing competitive offerings to third parties that embed or host our software. Hosting the products for your internal use of your organization is permitted. HashiCorp considers an organization as including all of its affiliates. This means one division can host a HashiCorp product for use by another internal division.

Q: What is a "competitive offering" under the HashiCorp BSL license?

A: A "competitive offering" is a product that is sold to third parties, including through paid support arrangements, that significantly overlaps the capabilities of a HashiCorp commercial product. For example, this definition would include hosting or embedding Terraform as part of a solution that is sold competitively against our commercial versions of Terraform. By contrast, products that are not sold or supported on a paid basis are always allowed under the HashiCorp BSL license because they are not considered competitive.

Q: What does the term "embedded" mean under the HashiCorp BSL license?

A: Under the HashiCorp BSL license, the term "embedded" means including the source code or object code, including executable binaries, from a HashiCorp product in a competitive product. "Embedded" also means packaging the competitive product in such a way that the HashiCorp product must be accessed or downloaded for the competitive product to operate.

Q: What if HashiCorp releases a new product or feature in the future that makes my project competitive?

A: If HashiCorp creates an offering in the future that is competitive with a product you are already offering in production, your continued use of the hosted or embedded HashiCorp product will not be considered a violation of the HashiCorp BSL license.
03:43📢 Ryan – "I think this is the right response, right? And I know that I'm probably in the minority of being sort of appeased by this in the community; because I think that the torches and pitchforks will not go away. But what this does is allow – if there's any kind of gray area in the future – it allows for litigation. And I think that that's sort of important, they're putting their stance out there. This will be referenced if it ever comes to it, as public facing statements. They're not trying to blow up the community. They're not trying to make sure no one uses it. What they're trying to do is make sure that they can still make money, which I think is good, right? I do want HashiCorp to stay around. I want them to be profitable. I want them to continue to deliver products."
📰General News this Week:📰
AWS
12:37 Amazon EC2 Hpc7a Instances Powered by 4th Gen AMD EPYC Processors Optimized for High Performance Computing 
AMD

4th gen EPYC processors

(Genoa) continue to roll out across the AWS fleet with the new

Hpc7a instances

for HPC

These instances offer 300 Gbps

Elastic Fabric Adapter

(EFA) bandwidth powered by the

AWS Nitro System,

for fast and low-latency internode communications.

All configurations are coming up at the same price in the calculator at 5256.00 a month or 7.20 an hour for any configuration, so we're not sure why you would not just choose the largest one. 
GCP
13:50 If I were you: Here are the the Google Cloud Next '23 talks for six different audiences
Attending

Google Next

? Richard Seroters gives you a great selection of courses to take across 6 different personas. 

Richard is director of developer relations and outbound product management at Google  Cloud. His blog is a good one to follow if you don't already! 
16:45 Announcing the new Transparency Center
A poor young product manager was given a task… and they were told that it was super important and would be critical for Google Next. That product manager pushed and pushed and shipped only to find out that it wasn't main stage worthy.. Or that's what we like to think about this announcement at least…

Either way, good job product manager. We're proud of you. 

Google is launching the

Transparency Center

, a central hub for you to learn more about product policies. 

The Transparency Center collects existing resources and policies, and was designed with you in mind. It aims at providing easy access to information on Google policies, how they create and enforce them, and much more, including:

Policy Development Process

Policies by product or service

Reporting and appeal tools

Transparency reports

Googles principles for privacy and AI
17:36📢 Ryan – "I mean, as the owner of the cloud platform that's constantly having to fetch the attestation for compliance of the cloud providers, I love this service. Here's a one-stop shop for the person who has no understanding of our workload, but they understand policy. Thank you very much."
18:53 Google Next Predictions:
Ryan Lucas
Generative AI Prediction – Finops Practice and Cost Management AI solution

A networking feature that only supports IPV6
Jonathan Baker (Sneaky, sneaky Jonathan…)
TPU V5 (Super Computer in a Box)

Generative AI for Contact Center and/or Retail AI
Justin Brodley
Google Bard in workspaces will be GA

Not going to announce anything New. 
Matt Kohn
Bard via API

Additional Security tooling Ci/CD

Announcement that they Gain Market Share by @ least 5%

Some sort of competitor for AWS Lattice
Main Stage New Features / Products (The Tie Breaker) 
Justin: 6
Jonathan: 9
Ryan: 1
Azure
32:29 Efficiently store data with Azure Blob Storage Cold Tier — now generally available 
Azure is announcing the GA of Azure BLog Storage Cold Tier. I personally always imagined the blog was cold anyways. 

Azure Storage Cold Tier is an online tier specifically designed for efficiently storing data that is infrequently accessed or modified, all while ensuring immediate availability. 

The nice part about the cold tier is it is as easy to use as the hot tier with all APIs, SDK, Azure portals, powershell, CLI and Storage Explorer supporting the cold tier natively. 

"Commvault is committed to ensuring customers can take advantage of the latest advancements on Azure Blob Storage for their enterprise data protection & management needs. We are proud to support cold tier as a storage option with Commvault Complete and our Metallic SaaS offering later this year. Commvault's unique compression and data packing approach, integrated with cold tier's policy-based tiering and cost-efficient retention, empowers customers to efficiently defend and recover against ransomware, all while ensuring compliance and cost-efficient, on-demand access to data."

— David Ngo, Chief Technology Officer, Commvault.
33:39📢 Jonathan – "I have nothing interesting to say about storage." (He's either still mad at Windows, or ready to head to a bar. Maybe both.)
Closing
And that is the week in the cloud! We would like to thank our sponsors Foghorn Consulting. Check out our website, the home of the cloud pod where you can join our newsletter, slack team, send feedback or ask questions at thecloudpod.net or tweet at us with hashtag #thecloudpod