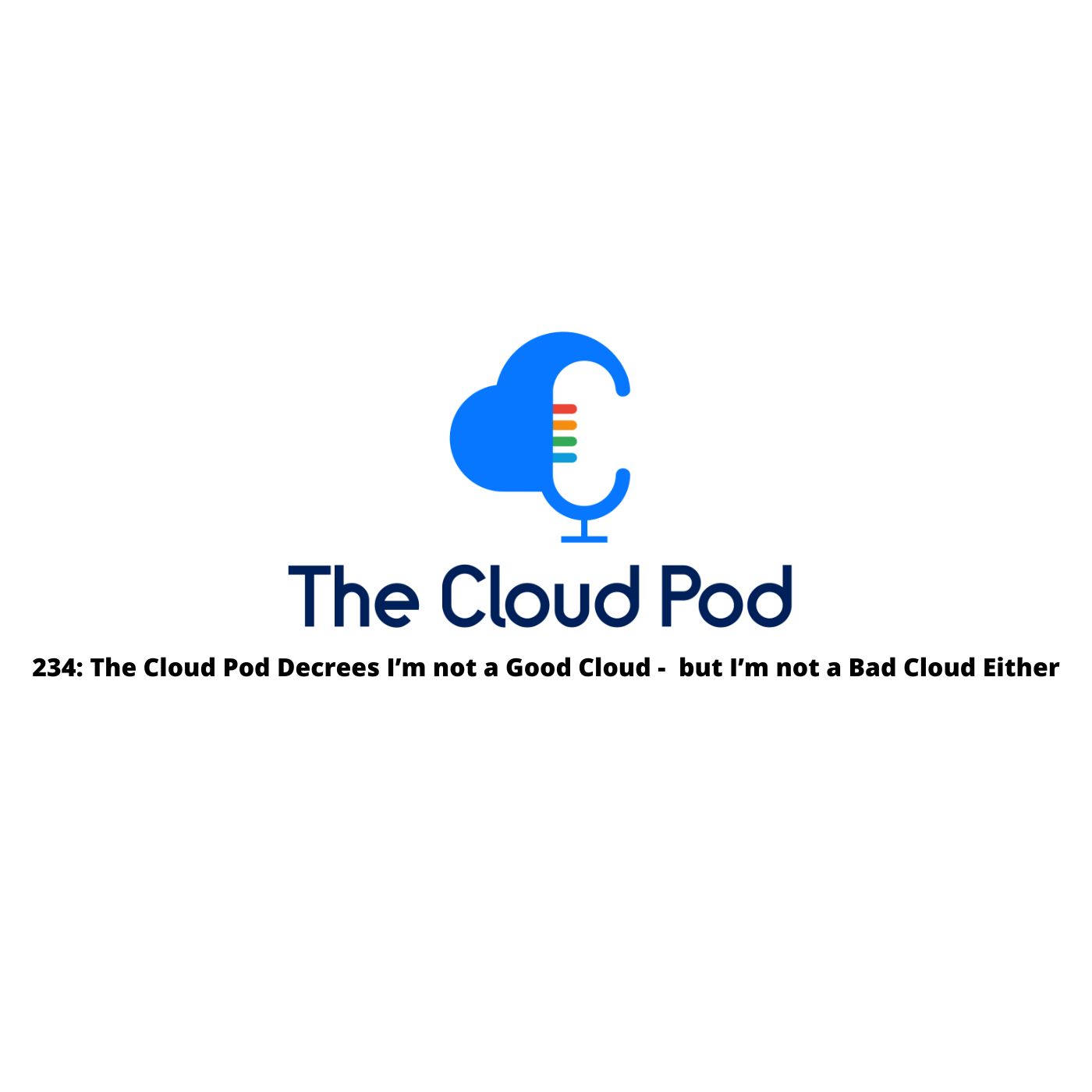 Welcome to episode 234 of The Cloud Pod podcast – where the forecast is always cloudy! This week your hosts Justin and Ryan are bringing you all the latest news from the cloud, including latest earnings news (you know you want it), a discussion about whether cloud is "bad" from one of repatriation's biggest advocates, Oxide's new cloud computer (it's SO pretty) and a look at some of latest updates on the AWS European Sovereign Cloud. 
Titles we almost went with this week:
☁️The Cloud Pod is Sovereign 
🪨We Avoid the Oxide Rust at TCP
A big thanks to this week's sponsor:
Foghorn Consulting
provides top-notch cloud and DevOps engineers to the world's most innovative companies. Initiatives stalled because you have trouble hiring?  Foghorn can be burning down your DevOps and Cloud backlogs as soon as next week.
Pre-Show
01:00 Follow Up: Wait – Is Cloud Bad?
We've talked previously on the show about DHH – David Heinemeier Hansson – who is the one big example of cloud repatriation. 

Well, maybe not the biggest  but the most vocal for sure when it comes to advocating for a return to on-prem. 

Forrest Brazel wrote in his recent newsletter about the back and forth between pro-cloud people and those who support DHH's move from AWS back to his DC. I think his rebuttal is the best one out there. 

He basically broke down the decision on cloud or datacenter to a 2×2 box… Low IT Competence with Low Growth or High Growth, and High IT Competency with Low Growth or High Growth.  

He basically says Basecamp falls into High IT Competency with low growth, which makes datacenter more attractive. 
03:43 📢 Justin- "Kelsey Hightower pointed out rightfully the 15 years of cloud helped DHH even be able to do this, because being able to do a cloud exit of the size and the complexity of what he does have without cloud technologies that enabled some of those things, it would have been difficult for him to do this going back. Declarative infrastructure, containerization – all that stuff is big cloud advances that were brought to the world that he's not benefiting from in his data center…"
📰General News this Week:📰
06:30  Oxide Launches the World's First Commercial Cloud Computer
If you're looking at the infrastructure you should run your repatriation on, we would like to suggest you take a look at

Oxide Computers

.

Founded by

Steve Tuck

,

Jessie Frazelle

, and

Bryan Cantrill

, they have officially launched their first product, which has been in development for the last 4 years. 

While Major cloud providers have built their own cloud computing services, Oxide is the first company to be selling a commercial version of an out-of-the-box cloud computer for individual companies that delivers the same massive hyperscale benefits.  

Purpose built for high performance computing, networking, and storage. 

They're hailing it as the first true rack-scale system with fully unified hardware and software designed for on-premise cloud computing. (As long as you recognize you need to buy it in rack units.)

They already have a pretty big list of customers;  including the US Department of Energy.

Additionally they have secured an A round with 44 million in funding, bringing their total raised to 78 million.  

A lot of buzz around this story and some great pics in the article, so definitely go check it out. 
09:23 You know what time it is? It's EARNINGS TIME! Let's dig in. 
MS had a great quarter with Revenue of 56.52 Billion, vs the expectation of 54.50. 

Up from 50.12 billion a year ago.  Net income was 22.29 billion, a 27% increase. Go team! 

Microsoft expects 15% growth for the 2nd quarter.

Intelligent Cloud (which includes Azure among other things)  produced 24.26 billion in revenue, up 19% year prior. 

Azure itself jumped 29%, higher than the 26% expected. (MS does not break out Azure revenue by itself.)

Notably, MS said that the Azure OpenAI service now has 18,000 customers up from 11,000 in July. 

3 percentage points of Azures' growth is tied to AI per the CFO. 
10:40📢 Justin – "…that's a pretty big increase in revenue tied by the AI era. And it's just beginning."
11:11📢 Ryan – "At this point, if Skynet takes over, I would almost welcome it if I don't have to read anymore news articles about the trivial advancements of AI, right? Like, I wanna know the big advancements of AI; like when they develop sentience that decides that humans aren't worth their space."
Things weren't as rosy in ABC land. 

Revenue was 76.69 Billion, beating the consensus estimate.

However, Google Cloud revenue missed expectations; only earning 8.41billion vs 8.64 billion. A 20 million dollar miss. Sad face. 

While the unit missed the consensus, it still grew 22% from the year earlier, double the rate of expansion for the company as a whole. 

The business had an operating profit of 266 million vs losing 440m the year prior. 

Lee Munson, Chief Investment officer at Portfolio Wealth Advisors was not kind. "If you want this stock to keep going higher, you've got to have cloud become more profitable. It's a third-rate cloud platform. We need to see it make money." OUCH. 

Pichai did say in Q&A that they have been helping customers with their bills given other challenges the customers have faced. 
11:11📢 Ryan – "…that's pretty harsh words for a sector of Google that wasn't making any money up until very recently, right? So it's pretty harsh. But it's also kind of true. I do believe that GCP is a third place, but a very far and distant third place to the other two hyperscalers. That might be colored by my beating my head against my computer all day."
Amazon wrapped up the hyperscale earnings, with a good quarter. 

Revenue rose 13% to 143.1 billion in the third quarter.  The net income tripped to 9.9 billion from 2.9 billion the year prior.  

Andy Jassy has been in cost cutting mode due to inflation and rising interest rates eliminating 27,000 jobs last fall. This resulted in an operating margin of 7.8%; the highest since it reached its record 8.2% in Q1 2021.  

This is a significant increase over the 2% margin it reported the year prior. 

Amazon's analysts were positive on AMZN shares, commenting on the improvements in margin, AWS acceleration and long term AI tailwinds that will impact the model over time. 

AWS revenue increased 12% to 23.1 billion dollars compared to the same quarter, and income was 7 billion representing 62% of its total operating income. 

Overall cloud growth was 27%
AWS
16:52 Multi-VPC ENI Attachments
You can now attach ENi's in different VPC's to an EC2 instance! With multi-vpc eni attachment, customers can maintain VPC level segregation between networks while allowing select workloads like centralized appliances and databases to communicate between them. 

While allowing select workloads like centralized appliances and databases to communicate between them. 

This is a pretty legacy pattern (DB Network vs App Networks). 

For more information, you can check out the user guide

here

. 
18:58📢 Ryan – "Yeah, it's a way to increase flexibility of those routing things for things that need to have a leg in two different places, right? Like I think it's more for probably different application access. If you think about maybe you have a software distribution server that does both dev and prod, and maybe you have a mix for each one of those things and you don't have to do some crazy peering solution or something terrible."
19:34 AWS Network Firewall announces support for egress TLS inspection in 2 regions  
AWS Network Firewalls now support egress TLS inspection, enabling customers to strengthen their security posture by (breaking encryption?) improving visibility into encrypted outbound VPC traffic. 

Starting today, you can use AWS network firewall to decrypt, inspect, and re-encrypt outbound TLS traffic destined for the internet, another VPC or another subnet. 

For additional details on availability, you can take a look at the

AWS Region table

We're just hoping that this is completely managed, and users don't have to worry about certificates. 
21:34 In the Works – AWS European Sovereign Cloud
AWS European Sovereign cloud will allow government agencies, regulated industries, and the independent ISVs that support them to store sensitive data and run critical workloads on AWS Infrastructure that is operated and supported by AWS employees located in and residents of the EU.  

The first region will be in Germany
21:54📢 Justin – "…which is not that special, because that's what Google's done. That's what Azure has basically announced. But what's a little unique about this is that it's a new region. It's not just a checkbox in a console. It says, 'I wanna be sovereign.' It's an entire GovCloud style region they're building in Germany for this purpose. And they say you can migrate your workloads between other regions to this region."
GCP
28:51  Customize load balancers for unique application needs with Service Extensions callouts 
Service Extension callouts on

Google Cloud Application Load Balancers

, which we recently

announced

at Google Next '23, are now available in public preview. 

Service extensions empower users to quickly and easily customize the data plane of google cloud networking products. 

This custom logic can address unique workflow requirements, offer an on-ramp for partners to integrate their software with Google services, or help organizations implement

cross-cloud network services

.

Plugins use WebAssembly code to run extensions inline in the network data path.  Since they are fully managed resources, they are a friendly option for users that want the benefits of a Google-managed offering.

Callouts allow users to instruct google cloud network products to make RPC "callouts" to custom services running in Google Cloud, multi-cloud, or on-premises form within the data processing path. 

This sounds like black magic to me… and with great power comes great responsibility…or really good hacks. 
29:45📢 Justin – "…be careful with this one, I think this is kind of my takeaway at this moment, because I can see how you can route traffic accidentally inside your load balancer in a way that you do not mean to do, and that can be dangerous."
30:37 📢 Ryan – " The reason why I'm having such a hard time with the service is it kind of goes against everything I've been preaching about Cloud, as far as using managed services to abstract away all the toil. This is just a way to put it right back in there. This is nuts. You can do cool stuff with it, and this is definitely stuff we *used* to do in the data center for crazy global DNS, region routing, or locale routing, and some of the stuff for custom authentication, you can do that, but you shouldn't. You shouldn't do any of these things that this empowers. You should go to something that's much easier to support and maintain and understand. So it's kind of crazy."
Azure
We probably could have found an AI story for you this week, but we decided to save you from it. You're welcome. 
Oracle
34:02 OCI and Google Cloud get closer for customers' multicloud journey 
You can now cross connect the google cloud with OCI! 

Leveraging Google's cloud cross-cloud interconnect and Oracles Fastconnect capabilities you can now pay Oracle to manage oracle in your cloud and connect it back to GCP. 
34:22 📢 Justin – "…which is a great way – if you're in trouble with them on licensing – to hopefully get yourself out of licensing hell and just connect your clouds together and say, yes, you run that for me at Oracle and we'll pay you all the monies and you'll go away and leave us alone. So we won't use Java anymore, we promise."
Closing
And that is the week in the cloud! We would like to thank our sponsors Foghorn Consulting. Check out our website, the home of the Cloud Pod where you can join our newsletter, slack team, send feedback or ask questions at theCloud Pod.net or tweet at us with hashtag #theCloud Pod