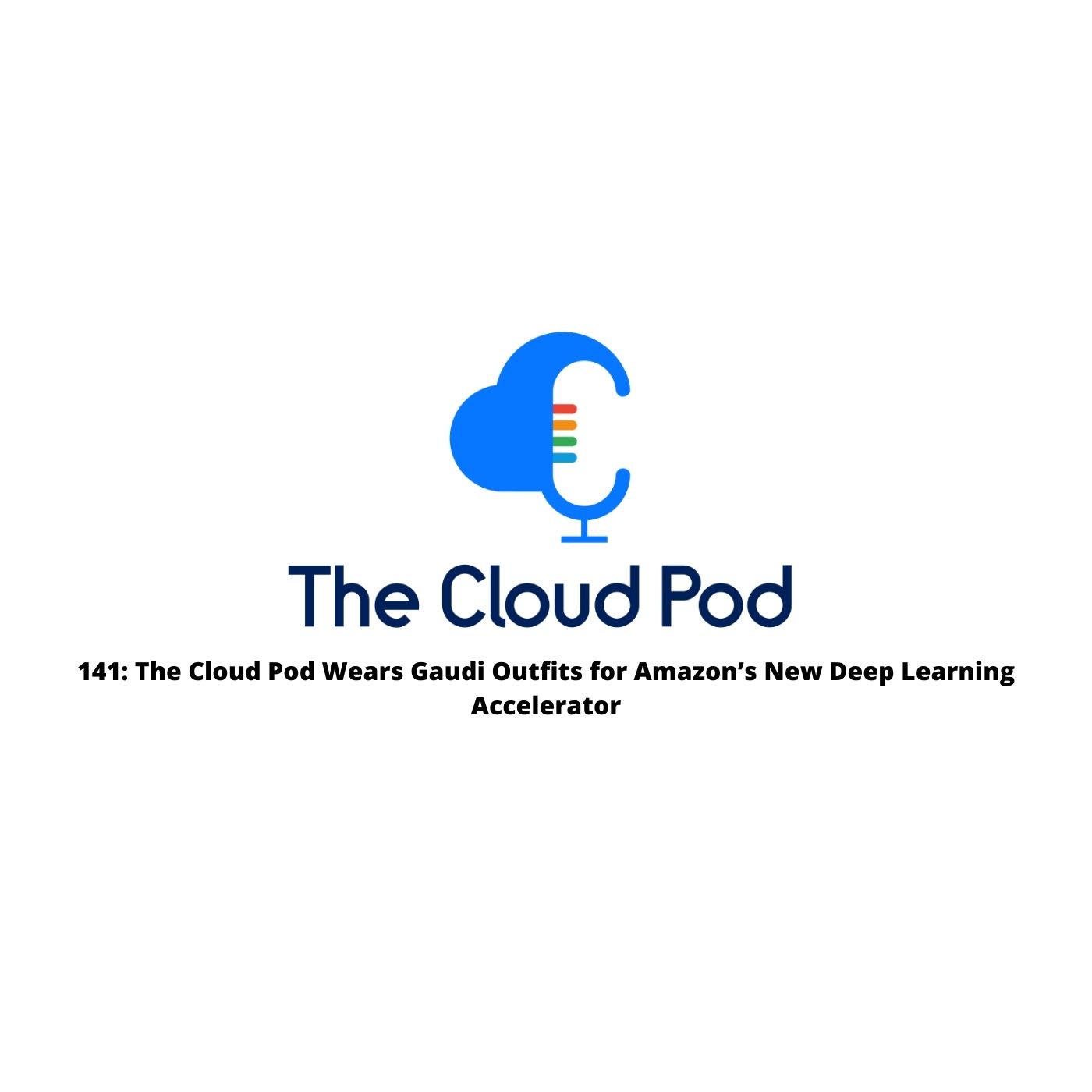 On The Cloud Pod this week, half the team misses Rob and Ben. Also, AWS Gaudi Accelerators speed up deep learning, GCP announces that its Tau VMs are an independently verified delight, and Azure gets the chance to be Number One for once (with industrial IoT platforms.)
A big thanks to this week's sponsors:
Foghorn Consulting

, which provides full-stack cloud solutions with a focus on strategy, planning and execution for enterprises seeking to take advantage of the transformative capabilities of AWS, Google Cloud and Azure.
JumpCloud

, which offers a complete platform for identity, access, and device management — no matter where your users and devices are located.

 
This week's highlights
🚨  AWS is using Gaudi Accelerators to speed up deep learning models — for nearly $10,000 a month. 

🚨 Google announces that Tau T2D VMs are now available in preview, and takes the opportunity to report that Phoronix has identified these Tau instances as the best price-performing ones yet. 

🚨 Azure bags the Number One spot in the Gartner Magic Quadrant category of Industrial IoT Platforms. We're wondering how much schmoozing Microsoft had to do to pull this off. 
Top Quotes  
💡 "I guess [AWS Gaudi Accelerators] solve the problem of lack of availability of NVIDIA CPUs. It's almost impossible to buy a decent graphics card, and I'm sure the cloud providers are suffering horrendously with not being able to scale their machine-learning instances the way they wanted to, because of the chip shortage."
💡 "We've said it for a long time now that with Google coming to the market when they did, it was very easy to take all the major gripes of AWS and Azure and improve on them. And they banged it out of the park. So kudos to them, because it is a much better user experience than [what you get with] the other two cloud providers."
General News: HashiCorp Increases Access to its Service Mesh
🚦 HashiCorp introduces its new Consul API Gateway to help route traffic to applications running on the Hashicorp Consul Service Mesh. This seems like an early release, given its fairly basic capabilities.
AWS: Rolling Out Gaudi Accelerators — Not Architecture
GCP: Releases Best Price-Performance Tau VMs — Until Graviton3?
Azure: A Glimpse of the View From the Top
💻 Azure releases

Visual Studio Code

— known only by us as GitHub Codespaces Lite  — in public preview. This new, web-based code editor runs in your browser with no install, and you can

get it here for free

. 

🥇 Justin found a Gartner Magic Quadrant where Azure is number one, and it's

for Industrial IoT Platforms

. It leads the quadrant with its flexible business systems, strong security approach (nevermind the

recent breaches

), and its global ISV/SI Partner ecosystem. 

🌐 In its

2021 IoT Signals report

, Microsoft finds that 90% of surveyed organizations are adopting IoT — shocker. It also found that COVID-19 has accelerated IoT adoption across industries, and that IoT security is a top priority among those surveyed. 
Oracle: Just Earned Itself a New Subscriber
✅ After Oracle changed its website yet again, Justin realized that he hasn't been getting updates because Oracle broke its RSS feeds. He has since subscribed to the newsletter and will be collecting Oracle news from now on. Thanks, Justin!
TCP Lightning Round
⚡ With a reference to the recent "Dune" release, Ryan wins the point, making the scores Justin (16), Ryan (11), Jonathan (12), Peter (1). 
Other Headlines Mentioned:
 Things Coming Up